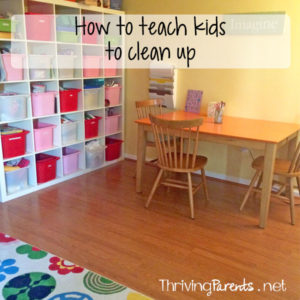 "CLEAN YOUR ROOM!"
Raise your hand if you've ever yelled that to your kids?
No matter how many times a day you walk around the house picking things up and putting them away, some days you:
A. just never feel like your house is clean.
B. you feel like you are always cleaning.
C. you hate cleaning.
D. all of the above.
When the girls were little we'd say things like, "Okay, let's clean up" and actually wait to watch it happen. Interestingly enough, it never did. Many times I would end up just cleaning the majority of it up because it was quicker and easier. However, that didn't do me any favors when one day I realized they had no idea how to clean up anything that was a substantial mess. When we didn't have kids we got a Bazaar Velvet rug to make the room look less empty but now we have kids their toys seem to fill every room of the house! I considered getting something like this white gloss coffee table with storage, as at least this way the kids would have a place to store things, but I just wasn't too sure if they would actually use it.
For some reason we think that kids instinctively know what cleaning up is, but they don't. They know what it looks like when it is all cleaned up and they know there's a lot of movement involved, but they don't have the brain development to get there on their own without a whole lot of practice and support from us.
The biggest problem is that when a room gets really messy, children can get completely overwhelmed and feel defeated even before they begin. I STILL get this way as an adult. To help alleviate this problem, it's important that we help teach kids how to clean up. This goes a lot farther than giving them a place for each of their toys. This requires breaking the process down.
Before you get started you'll need to:
1. Know exactly what needs to be done
2. Have a plan of where to start
3. Know where things belong (which means there needs to be a designated place for each item)
4. Know when to stop and take a break or stop for the dayHere are some strategies we try to use:
* I always have a child start with the easiest things first. This allows them to feel a sense of accomplishment as they are able to complete more tasks in a short amount of time. That success will also help fuel them when it's time to take on a more challenging job. Don't save the hardest jobs for the end, though. Intersperse them in-between some little jobs.
* I try to start with the floor first. Starting with the floor allows there to be room to walk and move about the room. Visually, seeing a clean floor is also more motivating because it looks like there's a lot less to be done.
* Stop or take a break when some work has gotten done and you've had success. You can discuss this when you start ("Let's clean up 4 things and then take a break." or "Let's set a timer for 10 minutes and then take a break.") Try not to get to the point where there's a meltdown and they're tired. Stopping while they still have success will leave a positive impact on them and encourage them to do it again.
* Make it FUN! If there are papers on the floor, take turns throwing them into a trash can like you are shooting baskets, close your eyes and see how well you can stack papers evenly, time yourself to see if you can pick up Legos faster or pick up markers faster (do not time kids so that they can race each other – that's a whole other can of worms that won't end well)
* Thank them! Yes, I know they made the mess. In our adult minds that means they should be the ones to clean it up. However, who doesn't like to hear words of appreciation when we've done something we didn't really want to do? Our children model what we do so model that positive behavior of appreciation.
* Don't strive for perfection. It's not going to look perfect unless you finish it yourself and make it that way. Try not to correct them when they place things in an incorrect place. This is a process and we want them to be proud of the result. Once they start getting the hang of it, you can start moving things to the correct place. This also means don't be too picky about where they put things. Even if you are a perfectionist, every time you move something that they've put away, your actions tell them that they did it wrong. Set them up for success and they'll be more willing to help next time. A clean and ventilated home means you are less likely to have an infestation and need to have termite control los angeles services dealing with them, which is expensive and toxic to your home!
What this looks like:
toddler/ preschooler:
At this age we need to break large things down into more manageable tasks. For example, if the playroom needs to be cleaned, give them a task where they can start. "Let's pick up all the books first." Once all the books are put away, move on to the next task. "Let's pick up all the pieces of paper." Be wary of trying to lump items together, such as saying, "Let's put the paper and crayons away." Stick to one object at a time so that they can focus solely on that one item. You can decide when to start lumping things together as they get older and have better focus.
preschooler/ school age child:
This process starts more with a conversation that makes the child use their critical thinking. "What do we need to do so that we can clean the playroom?" If your child has trouble determining what needs to be done, you can offer suggestions. "It looks like we have a lot of things on the floor. Do you want to pick up the papers first or the Legos?"
What this looks like with more than 1 child:
If you have more than one child, they may argue about who will clean up what items. You can ask them. "Which items are you willing to clean up?" or help assign them each their own item if they need help. "Sarah, you can pick up the Legos and Tyler, you can pick up the papers." Chances are you're going to have a child who will say, "But I didn't play with that!" or "These Legos aren't mine!" In those instances, I reinforce the fact that our family is a team and a team works together. We're all working towards the goal of having a clean playroom, no matter who played with what. In those instances, we typically reply with, "Our family is a team and we work together." Besides, working together gets the job done much quicker. Now, if we had one child who was very messy and one who was usually very neat, I would help the messy child more often than expecting the neat child to help. Chances are the messier child becomes overwhelmed more easily and needs the focus and direction that I can help provide.
NOTES:
1. I said "we" in the first part of this script. As a parent, I am always available to help my kids clean up. This does not mean I do it all for them. This means we always see every job in the house as a team effort. I expect them to help empty the dishwasher when I ask, as well, and because I am always willing to help, I almost always get the same cooperation in return. I know this may be a difficult concept for some people. I think of it this way: I always appreciate help when another person can give it. Whether it's someone to help fold the laundry, drying dishes as I wash them, or helping me get my little kids wrapped in a towel at the pool, all help is appreciated even though they aren't required to give it to me.
2. Another really important thing to note is that sometimes our children have underlying problems or disabilities that we haven't recognized yet. As a kid my room was always horrendous. It became a topic of conversation all the time in our house. Years later when I was diagnosed with ADHD, one of the first questions my doctor asked me was, "What did your room look like as a child?" My room was always so messy not because I didn't want to clean it. (I function best in a spotless environment. A clean house/ clean room helps me focus on the things I find most important.) I was literally unable to do so. The mess was debilitating and even if I did break it down and start small, it was hard for me to remain focused on a task for too long.
3. Be careful that you aren't too hard on your child for doing what seems so easy to you. Not all tasks are easy for everyone. (Ask my poor college room mates and my husband.) Hopefully these tips will give you some direction when it comes to teaching your children HOW to clean up. Start these routines with them when they are younger and they'll be easier when they are older. That doesn't mean they're always going to want to clean up. (I mean, I still have a dryer of laundry to fold myself.) But it does mean that at least you'll know you're given them the tools to be capable of doing it.
xoxo
–k
This post contains affiliate links.
If you're looking for storage ideas, we try to store all our toys and art supplies in this Kallax wall system from Ikea (you can see it in the photo above). We use the Trofast boxes (there are medium, small, and mini ones) and put labels on them before using them. We also have a Trofast system, which is smaller, but just as effective.
Click here to read how to teach your child what to do if they get lost
Click here to learn why your kids can start filling out their own forms
Pin this to save it for later!