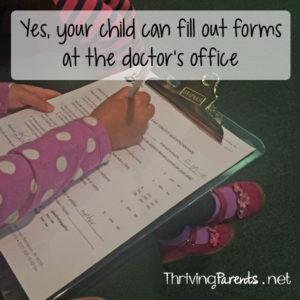 I'm all about making your life easier while giving your child the tools to empower themselves.  One of the many ways I do this is to teach them to fill out their own paperwork at the doctor's office.
I know, I know.  I can hear you now:
"I can't have my kid fill out their own paperwork!  Their handwriting is too messy!  No one will be able to read it!"
While this may be true, and children take a while to master the fine motor skills to have great penmanship, there's no reason they can't at least write their names at the top of the form.  As a matter of fact, as long as a child is able to write their own first name, they should be the ones writing it at the top of their form.  If they can write their last name, they can write that, as well.  As your child gets older, they can fill out more of the forms.  The office staff won't mind and if they do, then explain to them why you are doing it.  Our pediatrician's office loves it and encourages our girls to fill out all their paperwork now.
I often have our kids write their name, our address, and our phone number on our form.  Most kids can recite their address and phone number.  This is great practice for them to not only know this information, but to become familiar with writing it.  You can also have your child check off boxes on their school physical forms and their lead paint forms.  You can read the questions and let them know which column to check off.
I know it's easier and quicker for us to fill out forms on our own but this is an important life skill they need to learn.  While you're at it, encourage them to give their names to the receptionist to check in when you enter the office too!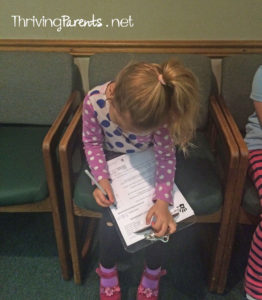 You want to give your child this job to do because it's a great way to teach them what needs to be done when it comes to filling out forms.  You wouldn't believe how many 18 year olds are nervous about going to the doctor in college because their parents aren't there to help them.  By giving them this job to do at a young age it gives you the opportunity to teach these life skills while you are there to support them.  It also empowers them.  Empowering kids is not only great for their self-esteem but it also helps them to feel more capable and more involved.  Kids are capable of so much more than we give them credit for.
Has your child ever filled out a form at the doctor's office?
xoxo
–k
Click here to read how to teach your child what to do if they get lost
Click here to read 3 different ways to teach your child a phone number
Click here to read how and why you should set up a password for safety with your child
Pin to save this for later!