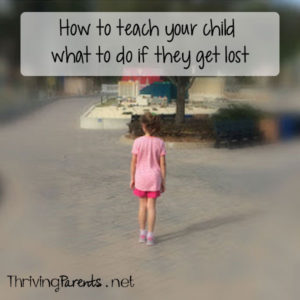 All of a sudden there were two where there should have been three. I began to panic as my eyes looked around. I seriously had seen her a second ago. I walked the span of 4 aisles and she wasn't anywhere in sight. Had my worst fear come true? Had I lost my child?
This post contains affiliate links.
When the girls were little we always strapped them into a stroller. It was almost a non-negotiable. Matt worked a ton of hours and I frequently took them out by myself. Having closely spaced siblings meant I needed the sanity of getting out of the house almost every day. I'm thankful that we had an amazing stroller that seated all 3 kids, had big rubber tires that could go on any terrain, turned on a dime, and fit through any standard door. I took that thing everywhere. Without it, I wouldn't have felt safe taking the girls out alone so often.
As the girls got older we started to let them walk if they wanted. We set up some rules, like they needed to stay close to us. This was always made easier by the fact that I had them wear matching shirts when we went somewhere more crowded. At an early age they knew if they didn't stay close they would need to hop in the stroller. It wasn't meant to be a punishment. It was meant as a matter of safety. One adult watching 3 small children (think 6, 5, and 3 years old) can be scary and dangerous if you can't see all of your kids all the time.
One thing we always discussed is what we should do if someone gets lost.
There are a few things we wanted to make sure they absolutely knew in case they'd get lost:
They need to know our phone number
Learning our phone number so they can call us or have an adult call us is invaluable. Some kids are too young to know their number. For those kids, they do sell bracelets that you can write a phone number on and they also sell ones that are tattoos. You can use a fine point Sharpie to write it on their arm or leg. My friend told me that she bought her kids some cheap mobile phones so they can always ring us just in case of emergency. She told me about mobile tracking on GadgetCouncil.com and it's certainly put my mind at rest if they were to ever get lost.
They need to know our first and last name
So many times kids get lost and an adult will ask them, "What's your Mommy's name?" and the kids respond with "Mommy." They need to know your first and last name even if they don't know their own last name. That's important whether their last name is the same as yours or different.
Here are our directions in case they do get lost:
1. Stay where you are.
Walking around can take you further away from where we last saw you. The further away you get the harder it is for us to find you.
2. Look for a parent with kids.
Finding a parent with kids is important. A regular adult without kids may not have the same sense of urgency as a parent when it comes to a child being lost. They also may not have experience in dealing with small children who are upset. (Not to mention that not all adults are safe.) The girls tend to mention looking for a mom but I always remind them that a dad with kids can be helpful, as well.
3. Yell out our name.
Yelling out our name, our full name, not Mommy and Daddy, will help grab our attention. We can usually identify our children's voices but hearing them call our name will make it easier in a crowded place that may be noisy.
Every time we go some place that is new or crowded, we review these rules with our kids. If we're in a place like Disney World, we review these rules every day we enter a park or if we go somewhere new during the day (like leaving the park and going to a resort for lunch or switching parks).
What this looks like:
The very first few conversations take place at home."I want to go over something with you. If we're ever out at the store, park, mall, or anywhere, and you get separated from us, what do you think you'd do?" Your child may have suggestions for what they'd do and they may not. You'd like them to answer that they'd stay in the same place and look for a parent with kids. "If you get separated or lost from us, we want you to stay in the same place. Don't go walking around looking for us. It'll be much easier for us to find you if you're not moving around. I also want you to look for another mommy and daddy who has kids with them and tell them that you're lost. They can help you find is or get someone who can."
Inevitably your child will ask why or how they'd get lost. This concept is abstract to them and it may have never occurred to them. There's no need to frighten them with stories of other kids getting lost. That may scare them and that's not necessary. You also don't need to impart any stranger danger information on your child. You don't want them to be afraid of other people who could potentially be helpers, like policeman or employees of the place you are. Just explain that sometimes when places get busy it can be easy to get separated if either of you are distracted. You hope it never happens but it's best to be prepared just in case. If you'd find it helpful, there are 2 stories that are great at helping children to understand this concept. The first is I Can Be Safe: A First Look at Safety. The second is I Can Play It Safe.
What this looks like when we go to new places:
Right before we enter a place (as we're parking, are walking in, or right after we enter) we stop and say, "Hey guys, what do we do if we get lost? Let's review what we should do." You hope they know the answer. If they do, repeat their answer and praise them for being correct. If they don't, and they may not be used to this concept yet, you'd want to say something like, "You need to stay where you are so you don't get more lost. When you stay where you are, we'll have an idea of where you are and it'll be quicker for us to find you. Make sure you remember to look for another mommy and daddy with kids. They'll be able to help you find us quickly. Don't forget to yell out our name."
I heard my name being yelled by a small voice. Her sobs made it hard to understand but I would know that voice anywhere. The second I turned the corner she took off running and leapt into my arms, almost knocking me over. My very outspoken child was frightened and sobbing. She was upset we were separated and upset that there weren't any parents around. She had found a store employee and was able to give him my name and phone number but they didn't have time to use it.
We like to think our kids will always be safe and near us but that's not always the case. It takes a split second to become separated and preparing kids can make all the difference when it comes to safety.
Have you talked to your kids about what to do if they get lost?
xoxo
–k
Click here to read about ways to help teach your child to learn their phone number
Click here to learn how and why to set up a password with your child
Pin this to save it for later!