In September Jill from Baby Rabies posted a Facebook status about her Tulle Monster Wreath.  It is the cutest thing I've ever seen and I knew I needed to make it for our front door.  Meanwhile, I thought it would be such a fun idea for the girls to make one for their bedroom doors.
Each of the girls' bedroom doors has a Command small wire hook* on it.  We usually hang something on it for each season and sometimes they hang something they've made at school on it.  We don't have anything to hang for Halloween so I thought the monster wreath would be a great craft for them.
I bought all of the supplies Jill has listed in her tutorial.
Here's what you'll need:
This post includes affiliate links.
We started with painting the eyeballs.
Then we got started on wrapping up the tulle.  I cut a cardboard box so that each girl could wrap the tulle just like Jill suggested.  She's wise – it made it so much easier, especially for the kids to do themselves.
The girls really loved the project.  They loved wrapping the tulle around the cardboard and they loved cutting the tulle with my good sewing scissors.  For Kate (7) and Caroline (6) it was easy to tie the pieces of tulle around the wreath.  Rebecca (4) still can't tie shoes so she needed some instruction and then just some plain old help.  It was a lot of work for her to do.  We tied each piece in a double knot and placed the knot at the very front of the wreath so that equal parts went to the left and right.
Some time around the tying of the tulle, Caroline decided she didn't want a monster.  She wanted to make her wreath into a pumpkin.  This didn't surprise me at all.  She likes to be different than her sisters  and is always looking for a creative way to do so.  We didn't quite know how we were going to make it into a pumpkin but said we'd figure it out as we went along.
Of course, as soon as Rebecca heard that Caroline wanted a pumpkin, she wanted one too.  And then so did Kate.  Apparently, we painted those extra eyes for nothing!
2 weeks later, Kate and Caroline are almost done with their tulle.  I think they lost their gusto, in between school and their activities.  Rebecca, however, was on a roll.  She was determined to finish her pumpkin and hang it on her door.  I bought some foam sheets (the white is for my monster's mouth).  Rebecca cut the corners of the foam for the eyes and then traced her own jack-o-lantern mouth and cut it out.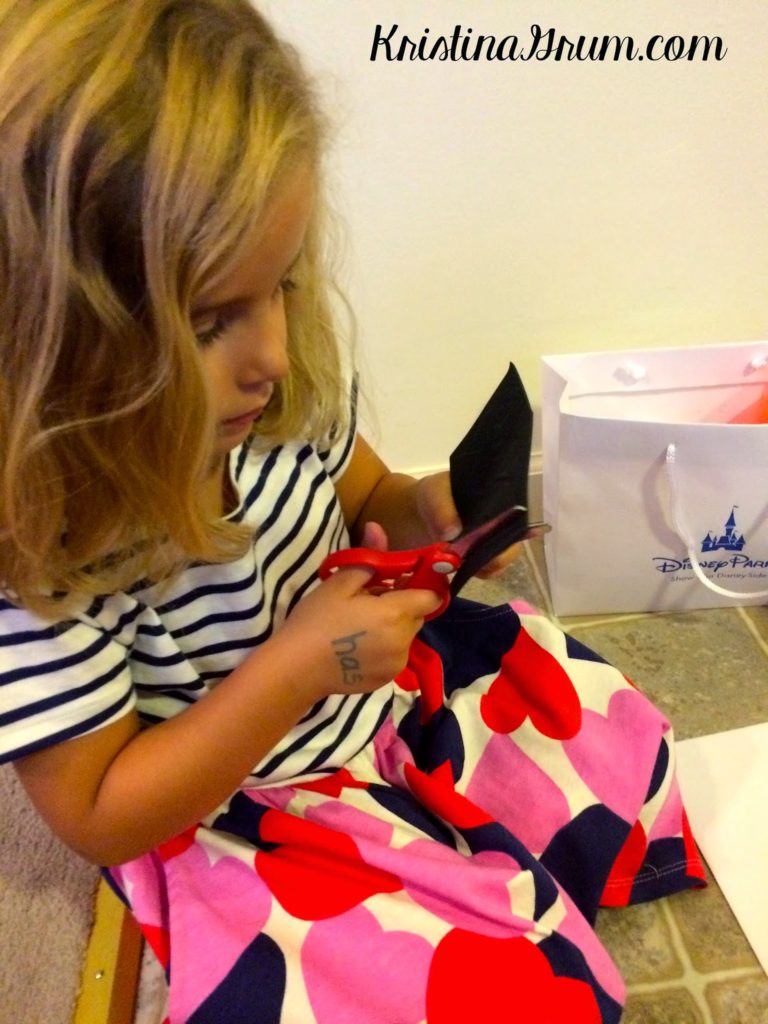 I took a hot glue gun and glued the eyes and mouth onto the wreath.  Then I tied a 3″ grosgrain green ribbon onto the top of the wreath.  I used a brown piece of yarn (that I found on our hallway floor – ha!) and attached it so that the green ribbon would look like a pumpkin stem, yet still hang from the hook.
Rebecca was so ridiculously proud of her hard work that she put her wreath on our bathroom door at first.  She wanted to make sure everyone could see it.
Didn't it come out so cute?  I love it!  I especially love it that she was able to do the majority of it by herself.  Now Kate and Caroline are very motivated to finish their wreaths.
Do you decorate for Halloween?
xoxo
–k
Take a look at our cute Ghosts in the Graveyard dessert
Pin this to save it for later!