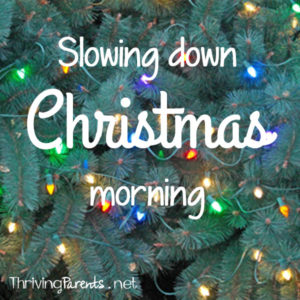 Christmas is a season of Hurry.
Generally, people wait until Thanksgiving to get excited about Christmas.  After that, it's rush, rush, rush!  The busyness of the holiday season can make adults and children cranky from the lack of routine, activities, extra time visiting relatives they don't really know, and gift giving, which can be hard for kids, especially when they want to keep the gifts for themselves).
Our first few Christmas mornings as a family of 5 were hectic, to say the least.  The girls tore through their presents in a mad dash and 15 minutes later we were sitting there with our heads spinning from the flurry of wrapping paper.  Matt and I would look at each other across the room and wonder what had happened.  We'd miss their reactions to the gifts we thought would be their favorite.  In fact, we often missed seeing any presents bring open at all.  Then the girls would want to play with their own gifts and not watch us open ours.  It made me feel like they weren't appreciating the sentiment and meaning behind gift giving.  That was exactly what we did NOT want to happen.
Since then we've changed the way we do Christmas morning.
This post contains affiliate links.
Prepare the night before
On Christmas eve after we put the kids to bed, Matt and I put all the gifts out.  We fill the stockings and I set the kitchen table.  For some reason setting the kitchen table for breakfast is really important to me.  I love the way it looks when we come down.  I usually buy cute paper plates and matching napkins.  (Sometimes I buy ones likes these so I can use the extras for Valentine's Day!)  We do use real silverware (if we use silverware at all!).  I also set out these adorable small mugs for hot chocolate that we have.  I set up our hot chocolate bar and get water ready to boil. I also set the coffee pot.
First thing in the morning
No one is allowed to come down the stairs until everyone is ready to come down the stairs.  We have a 2-story family room so this means the girls sit at the top of the stairs and look down below at their gifts while they wait for Matt and me to be ready.
We start our morning by opening Christmas stockings first.  Although I follow the 3 gift rule for Christmas, I love to get a lot of small gifts for their stockings.   I choose lots of fun things and occasionally they're things from our own childhood, like yo-yos or small flashlights.  The kids will play with these gifts for a little while and then we clean up the wrapping paper and put all their items back in their stocking.
Breakfast time
After the stockings, we sit down to breakfast.  To make this quick and easy, I always serve something I've made ahead of time.  Our favorites are cinnamon chip scones, muffins, or cinnamon rolls.  We drink hot chocolate and the kids talk about what fun things they loved from their stockings.
This part can drive them crazy but in a good way.  It allows their anticipation and excitement about their presents to build.
Present time
As soon as all 3 kids are done, we head into the family room to open presents.  When the kids were little, if Matt and I weren't done eating breakfast, we'd still head over and take our breakfast with us.  The kids were still young and they don't have the same ability to delay gratification as long as adults do.  Now that they're a little older, we make them wait a few minutes.
Once we're in the living room we take turns opening presents.  This means only 1 person at a time opens presents.  First, we decide who will go first.  If they can't decide, we help guide them to a decision.
What this looks like:
"Girls, who's going to open a present first? Remember, you all have the exact same amount of presents so everyone will get 6 turns."  Some years they have trouble deciding and we'll pick a name out of a hat, have them pick a number between 1 and 10, or close our eyes and point at a gift and whoever's gift it is will get to go first.  Then we usually go in birth order from oldest to youngest.  So if Caroline (the middle child) goes first, Rebecca will open the second gift, and then Katherine.  Matt and I take our turns in between the girls.
When someone opens a gift, everyone else watches.  They aren't allowed to play with their gifts or organize presents under the tree.  The gifts are all carefully chosen for each kid.  We want them to each have their moment of opening their present and they deserve everyone's undivided attention.
It's always fun to see how this has evolved over the years. In the beginning, when we had 3 kids, aged 5, 4, and 2 years old, they had the hardest time sitting still and not seeking out their own gifts.  Now they like to give comments and get excited over the gifts their sisters open.
Sibling gifts
When the girls give their gifts from each other, we allow them to open wildly if they choose to.  They used to open like crazy but over the years they've gained an appreciation for picking out a great gift that their sister will appreciate so they like to watch the other person open it.
After the gifts
Once we're done opening gifts, we clean up the wrapping paper so there's room for the new toys.  Then Matt and I snuggle up on the couch next to each other and watch them go crazy deciding which toys or activities to use first.  It's taken us longer than we would have liked to start using this routine but it's really helped us to enjoy the morning and the process of gift giving.
Slowing down and enjoying Christmas morning means all the rushing to get ready for Christmas is worth it.
Do you make time to intentionally slow down for Christmas?
xoxo
–k
Read about our 3 gift rule for Christmas
Learn how to help your child with gift giving disappointment
Pin this to save it for later!