It's typically about this time that I hear people wonder what to get their kids for Christmas.  Often they're trying to figure out what to buy, if they'll spend equal money on each kid, or opt for the equal the amount of gifts.
We keep it simple and go with the 3 gift rule.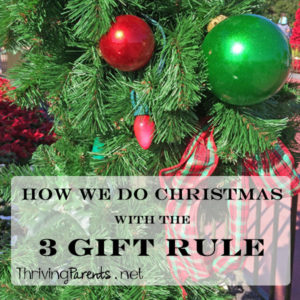 This post contains affiliate links.
Growing up Christmas was always a really big deal in my house.  My parents (and by parents, I mean my mom) went all out and always made sure we had what we wanted under the Christmas tree.  Santa was a hero in our house!  The interesting thing is that I can only ever really remember one present.  Yes, you read that right:  ONE.  It was a Walkman.
When Katherine was 9 months old, we celebrated her first Christmas.  Matt and I were pretty good about what gifts she got.  She got a few books, a matchbox car, and a Cabbage Patch Doll.  Pretty simple, right?  I mean, what does a 9 month old baby need?  It's not like she was able to play with much yet.  We were amazed, however, with the amount of toys she got from the rest of our family.  Looking back, it wasn't anything more (or even close to) what I had gotten as a child.  It just seemed so excessive for a baby.
It was pretty much at that point that we decided we would stick with giving 3 presents.  We're Christian and Christmas is a celebration of Jesus.  The 3 wise men brought baby Jesus 3 gifts so it seemed appropriate to follow the same tradition.
The following Christmas Katherine was 21 months old and Caroline was 7 months old.  We tried to apply the 3 Gift Rule.  As much as I'd love to say it was easy, it wasn't.  Were the 3 gifts all from Santa?  Would our kids get presents from us?  If they did, were they included in the 3 gifts? If we bought a joint gift for both kids would it count as 1 gift or 2?
This is what we decided:
Mommy & Daddy AND Santa both bring 3 gifts.  That means each child gets 6 gifts total.  This is to honor the three wise men.  We want Christmas to be more about Jesus than it is about Santa*.  If we do a larger combined gift, it counts as 1 gift.  The largest gift always comes from Mommy & Daddy and the smaller gifts come from Santa.  We don't let Santa get all the credit for the best gifts!
1 gift is always a National Geographic book and 1 gift is always a board or card game.  We also do stocking stuffers which aren't included in the 3 Gift Rule.  These usually never cost over $5 each.  Clementines must go in the stockings along with Hershey's Kisses and Reese's Peanut Butter Cups.  (You've all made my Reese's Peanut Butter Ice Cream cake, right?)
8 years later and the 3 Gift Rule is still working great!  The girls know what to expect and they know that Christmas is about more than just the presents.  It also really allows us to not go overboard in spending money.  To be honest, some years I have a hard time not buying them more and others I have a hard enough time thinking of 6 gifts to get each of them.
So how does your family do gift giving at Christmas?  Do you have any set rules or just wing it?
xoxo
–k
*Santa – We've kind of made it a rule to never really talk about Santa.  At least we don't intend on bringing it up.  Yes, Santa comes.  Yes, Santa brings gifts.  Yes, our children believe in Santa.  Here's the interesting part: they only know about Santa from friends at school, relatives, and things they see on tv.  They've never learned anything about Santa from us.  We don't want to take any fun out of Christmas.  We just don't want Santa to be the show stealer from Jesus.
Learn how to help your child with gift giving disappointment
Read how we slow down Christmas morning
Pin this to save it for later!