Every month we do a Random Act of Kindness for someone else.  Our family calls it Project Joy.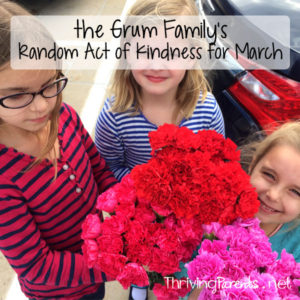 March was a fun month for us.  The girls had spring break, Katherine and I both had birthdays, and we made a trip to Washington, DC.  It was no surprise at the end of the month that we realized we hadn't yet done March's Random Act of Kindness.
When I asked the girls what they wanted to do this month, their answer was unanimous – they wanted to put flowers on cars at the hospital again.  I think it's still their most favorite Random Act of Kindness to do.  They like to talk about people walking out of the hospital after a long day visiting at the hospital.  They imagine them being tired and then finding a bright, colorful flower on their car's door handle.
So this month we went to Produce Junction where you can get a bunch of flowers for much less than any florist or grocery store.  We bought 6 bunches of flowers.  Each girl was able to put 2 full bouquets on cars on their own.  I still see the excitement in their eyes even though we have done this no less than 5 times in the last 2 years.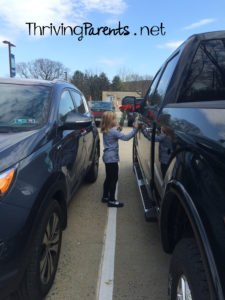 Have you done any Random Acts of Kindness this month?
xoxo
–k

Click to see a list of Random Acts of Kindness your child can easily do
Read how we started spreading joy with Random Acts of Kindness
Pin this to save for later!