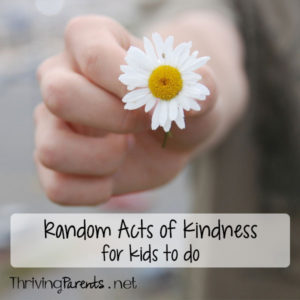 On Saturday I took Kate to a birthday party.  She noticed that the younger sister of a boy in her class wasn't playing. She sweetly went up to her and said, "Do you want to come play with me?"  My heart melted.  There's nothing like seeing your kids in their own environment to see WHO they are as people when they're not at home with family.
When we left the party Kate asked me if I thought the girl was happy she asked her to play.  I said that she looked very happy and was smiling the rest of the party.  Then this conversation happened:
Kate:  Mommy do you want to know why I asked her to play with me?
Me:  Sure.  Why?
Kate:  Well, she was standing with her mommy and she looked sad.  I thought about how we put those flowers on the cars in that parking lot and how happy those people must have been.  I wanted her to feel happy too.
It was then that I realized that our Random Act of Kindness in the hospital parking lot hit home to her.  She really got it and a week later was still thinking about it.  Then she asked what we were going to do next.
Teaching our kids to do Random Acts of Kindness teaches them empathy, compassion, and thoughtfulness.  It's also important for us to model these examples on a daily basis.
We started to think:  What Random Acts of Kindness can kids so? We came up with this list but I am sure you all can help us think of more ideas.
Click Here to Get Your Printable
What else could we add to our list?
xoxo
–k

Read how we started spreading joy with Random Acts of Kindness
Pin to save this for later!