Every month we do a Random Act of Kindness for someone else.  Our family calls it Project Joy.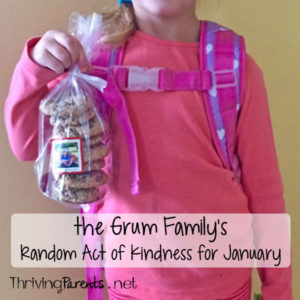 This month we almost didn't make it!  January was busier than usual and we found ourselves at the end of the month wondering what we'd like to do.  Rebecca suggested making cookies and so that's what we did!
On a Sunday afternoon we got busy in the kitchen.  We made a full batch of oatmeal chocolate chip cookies and ate too many ourselves.
At dinner we talked about who we'd like to deliver them to.  Rebecca said she really wanted to give them to her best friend and her little brother.  We packaged them up in some cookie bags together and put one of our Shutterfly labels on them so the recipient would know they were from us.  I try to keep some packaging materials in my already over-crowded baking cabinet for times like this.  It comes in handy!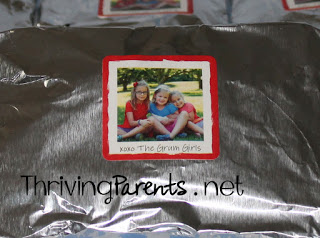 The next day we drove by their mailbox and dropped them in.  We prayed that they wouldn't see us and they'd be a surprise.  Also, I think it can look a little creepy if you see someone at your mailbox, right?  (I've also heard it's against the law to open someone else's mailbox but don't know if that's true.)
Because we were so late in planning this month, we're already talking about what February's Project Joy will be.  I think we'll be doing it this weekend.  I'll be sure to post some photos of it on Instagram.
Have you done any Random Acts of Kindness this month?
xoxo
–k