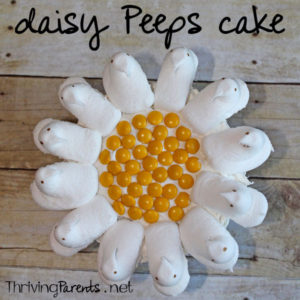 This post contains affiliate links.
Daisies have always been my favorite flower.  When I made the
sunflower Peeps cake
a few years ago, I knew I needed to find a way to make a daisy Peeps cake too.  Did you know that Peeps are made in my hometown?  We actually have a Peeps store so we get to see some flavors before they hit the retail stores.  (My favorite is
chocolate mousse
.  They're amazing!)
I'm lucky that I had helpers when it came to making the actual cake.  The girls are in love with cooking and baking and they were able to make the cake on their own.  We used a
Betty Crocker boxed gluten free cake mix
.  Most of the time I'll make my own cake batter from scratch using
Gluten Free on a Shoestring
's recipe in her
Quick and Easy cookbook
.  Normally, I LOVE box cake mix.  But when it comes to gluten free cake mix, Gluten Free on a Shoestring's recipe is so much better.  On this particular day we didn't have a lot of time so we did Betty Crocker instead.
When the girls made the cake batter, we split it into two
6″ pans
.  One box of gluten free cake mix is only enough for only 1 regular 9″ cake pan.  (I swear it's like gluten free people get the short end of the stick everywhere!)  After the girls baked the cakes and let them cool, I began to assemble them.
I bought
Betty Crocker's whipped white frosting
.  I went with whipped because the white is so much brighter than the regular vanilla frosting.  I made the cake the same as I would assemble any regular cake.
When the cake was completely frosted, I took
white chick Peeps
and placed them around the outside edge of the cake.  Half of the Peep was hanging off the edge of the cake.  Once we had Peeps around the perimeter, we added yellow Reese's Pieces to the center.  The girls had separated Reese's Pieces while the cakes were baking.  We thought about yellow frosting for the middle, but I like the texture that using Reese's Pieces gives.  You could also use M&Ms, too.
And that's it!  This was a ridiculously easy cake to make.  It was fun and easy for the kids to help.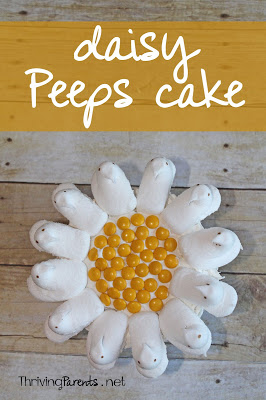 In our experimenting we attempted to make the cake using bunny Peeps.  It looked cute but was much more like a snowflake than a daisy.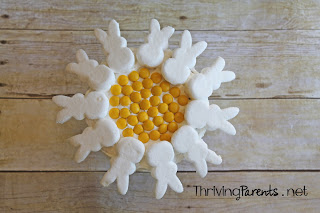 xoxo
–k
Have you seen my sunflower Peeps cake?
Click the photos to pin this and save it for later!