You're folding laundry and you realize the house is suddenly quiet. Quiet is not usually a good thing when you have small children.
Suddenly, you hear a crash!
You run into the kitchen to see a container of milk spilled all over the floor. You look at your children who both simultaneously yell, "It wasn't me!"
Obviously, someone had to spill the milk.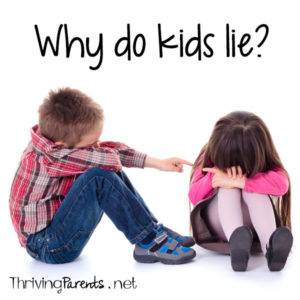 Why do kids lie?
There a bunch of different reasons and as we go through them, I'm pretty sure they'll look familiar to you.
Kids lie because they're afraid they're going to get in trouble.
They've learned what is and is not acceptable. However, because they do not have a fully developed brain, and they lack impulse control, they aren't yet able to control themselves. What does this mean? It means they know the difference between right and wrong but can't always do what's right. This is a problem with adults too. Not all adults have mastered impulse control. I know I haven't.
Kids want to get someone else in trouble.
When kids are trying to avoid blame and trouble, they'll look to the nearest friend or sibling as their target. This is especially common if there is a more than normal amount of sibling jealousy in the family.
Kids actually don't remember what happened.
Kids have a short memory span. This means while they can remember you promised them a trip to the zoo last year, they can't always remember what they did 5 minutes ago. Typically this is because what happened is a blip on their radar. It didn't have much meaning to them or it was an automatic or impulse reaction. A good example of this is something like tripping their sibling as they walk by. It has been noted that retracing their steps through songs for kids can help them remember details sometimes.
Kids have creative imaginations.
The stories kids can come up with are creative. Once, Katherine told a teacher I was pregnant with a boy even though Katherine knew we were done having kids. Kids do this for a few reason: It may be because it's something they hope comes true, it can be a story they remember someone else telling, or it can be something they've truly begun to believe.
Kids lie when they want to avoid doing something.
This reason typically happens when it's time to take a shower, wash hands, or brush teeth. I'm not sure why kids have such an aversion to these things but they do. You may be familiar with this example if this scenario sounds familiar: You ask, "Did you brush your teeth?" and your child responds with, "Yes." Then you might say something like, "Let me check them" and your kid says, "I'll be right back" and stomps away. A friend of mine mentioned how she tells her kids that she will take them to visit a Dentist in McAllen for example, if they skip brushing their teeth. She's told them how important this is for them, but they still lie sometimes.
Kids lie when they're embarrassed.
If kids are caught doing something they know they shouldn't be doing, they're going to be embarrassed. This embarrassment often leads to lying, even if you see the offending action. I once watched as one of our children elbowed her sister and pushed her off of a chair. We were in the middle of a birthday party and the child was so embarrassed she immediately declared she didn't do it – even though I saw it happen.
Kids lie when they're upset with their own choice or action.
When kids know what they should be doing, they may lie because they are upset with their decision to NOT do the right thing. Usually, this is due to lack of impulse control.
Kids lie because they see us lie.
I know, I know. "I don't lie!" you're saying to me. But yes, almost all adults tell little white lies. We lie about a kid's age so we can get a discount at the movies or an amusement park, we lie when we're running late, and we lie about forgetting to rsvp to a birthday party. Our kids are always watching.
Kids lie because they're testing their boundaries.


What you may not know is lying is a developmental skill. Children usually start lying around 3 years old.

One study

says when a child lies at a young age, it shows they have a higher intelligence. It's attributed to the Theory of Mind, where a child is able to differentiate that people have different opinions, beliefs, and desires.

Kids lie so they can get away with something they usually can not do.
When we tell the kids they can't do something they really want to do, they may do it anyway and lie about it. Or they may ask your partner to see if they give them a different answer.
Kids lie when they feel bad.
Kids often feel bad when they've done something wrong. They don't always have the ability to express their remorse about it. Instead, they may lie and deflect.
Kids lie to fit in with their peers.
Fitting in with their peers is important to kids after about the age of 8. They may lie to their friends about things they're allowed to do, watch, and say. They may also lie to their parents about what they've done if they know their parents have different rules than their friends' parents.
I'm sure if we tried, we could come up with many more reasons why kids lie. What reasons would you add?
What should you do when your child lies?
You can read more suggestions HERE. My biggest suggestion is this one:
Acknowledge your child but don't acknowledge their lie (at this time).
Adults have a hard time handling and not reacting negatively to the truth. This may take practice on your part, but it's crucial if you want the lying to stop.
Do you think adults make it easy for children to be honest?
xoxo
–k
Here are some great book suggestions to help teach your child about lying:
Read to see how you can balance your child's needs when they're ANGRY
Read 5 ways to get siblings to connect
Read 3 ways to connect with your kids individually

Click the photo to save this pin for later!