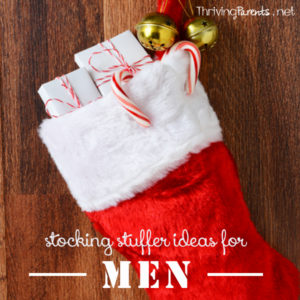 I've said it before and I'll say it again, stocking stuffers are my favorite part about Christmas gifts.  I love finding small things to fit in stockings and finding useful things is even better.  I've been on a mission to find some new stocking stuffers for men because I needed ideas for Matt.
This list of stocking stuffer ideas for men are useful, fun, interesting, and some are just a little bit quirky.  The best part is some of these ideas would be perfect as add-ons to gifts for all the men in your life, like brothers, in-laws, and fathers.
Here are some great stocking stuffer suggestions for men:
This post contains affiliate links.
I don't know what it is about jerky but my husband loves it.  He's also an adventurous eater so this assortment pack of jerky with alligator, beef, wild boar, buffalo, elk, kangaroo, ostrich, and venison is right up his alley.  (I had no idea people even eat kangaroo!)
Most men have a morning routine which includes the 3 things.  This travel pack makes traveling or working out at the gym a breeze.  The pods are tiny so they are easy to store in carry-on luggage and don't take up much room in a gym bag.
Good luggage tags don't seem that important.  Until that is, you absolutely need them because you lost your luggage or are in a hurry at the airport.  When Matt travels for work, I'm a big fan of him grabbing his suitcase quickly and getting home.  A brightly colored tag makes it easier for him to see his luggage coming through the baggage claim carousel.  I know I'm not the only mom who can't wait for her husband to come home because she's been alone with the kids for a week with no break.
I'm not really sure what ingredients are in a pomade and why it's different than a regular hair gel.  I just know pomades work really well for men.  This brand is great and is small enough to fit in a stocking.
When the girls were little we got stuck on a highway because there was a big accident ahead of us.  Since that day, I've kept a few essentials in my car for emergencies, the most important being this little potty for the kids.  Travel Johns are great for men who travel by car or keep an emergency kit in their car.  I know it's easy for them to "go anywhere" but if they're sitting in traffic, they really can't urinate in public.  (They also have a female version too!)
These feel so good!  They're great after a long day on your feet or after a long day of work.
This razor grip keeps a razor handy for men who shave in the shower.  It also helps to keep the razor out of kids' reach in the bathroom.
I'm not sure what it is but the men I know are obsessed with nail clippers.  We keep a set of nail clippers in every place you can imagine: the bathroom, kitchen junk drawer, the car, our suitcases, etc.  I feel like we can never have enough nail clippers in our house.
Ok, I recognize that tweezers aren't necessarily a fun stocking stuffer.  However, they are a necessity.  Sometimes men just need to take care of a rogue, white eyebrow hair.
Bacon flavored lip balm.  Does this require an explanation?
This organizer keeps all kinds cords organized: laptop cords, tablet cords, cords for reading devices and cords for phones.  If you label the sections in this organizer, you'll never wonder if you have all the cords you need when you travel.
This toy parachute will be as fun as the one he played with as a kid.  Climb to the top of a staircase, open a window, or head to the local playground with the kids and let the little blue guy fly from the top of the slide.
Slingshots can be so much fun.  Take this out to the back yard, set up some recycling as a target, and evaluate your hand-eye coordination.  This is definitely a toy for the grown up and not a toy for an unsupervised child.
I'm a huge fan of Jackery's external battery chargers.  They can fully charge both an ipad and iphone a few times before it needs to be recharged itself.
What I love about these headphones is that they come with 3 different size silicon eartips so they are guranteed to any size ears.
These plane models are so cool.  Matt actually got me a laser cut model of the Empire State Building last year.  It wasn't anywhere as detailed as this Lockheed Martin set is, but it took a while to do.  There are other models, like this one, available, also.  You will probably need those tweezers I posted above to help out with the assembly.
Playing cards are a staple in most houses.  We keep a pack in our suitcases and a pack in the car.  You just never know when you can use them.
This book is full of new games I can guarantee you won't know how to play. It has directions for over 250 games and a good amount of them are games kids can play too.
Poker chips can turn any deck of cards into a fun poker game.
We first saw this product on Shark Tank in one of the very first seasons.  We love this water bottle because the top and the bottom both come off.  This means it can get cleaned really well in the dishwasher.  The new design means it won't roll away from you, either!
These cooling towels are extra long and stay cool for up to 3 hours.  They're great to have on hand after a workout.
These are perfect for your guy if he doesn't like to wear his wedding ring while he works out.  Because they're flexible, he's less likely to chafe or get a finger injury.  They even have a version for women!
No tie shoelaces are perfect to getting the tightness "just right" and for not having to stop along the way to re-tie them.
A running pouch is a great accessory if the person you're buying for walks, runs, or works out.  It keeps their phone, money, and car keys all in one easily accessible place.
These cards are perfect for someone who doesn't have time to head to the gym but still wants to get a workout in.  Each card has a different exercise to do.  This means no 2 workouts would be the same with all the combinations that can be done.
The Little Red Book is famous in the golf world.  I remember my dad always had it on his nightstand when I was a kid.  I think he has it memorized by now.
I don't think any golfer can have too many golf balls or golf tees.
This golfer's tool is the perfect size to keep in a golf bag's pocket.  It includes a ball cleaning brush, club cleaner, magnetic ball marker, cleat tightener, and divot repair, along with some other features.

A sample pack of 5 Hour Energy is great to add to the stocking.  This is a great chance to try new flavors.
Gloves that work on touch screen devices allow men, like my husband, to text for help while putting up, or taking down the Christmas lights.

The 4-in-1 pocket screwdriver could really come in handy on Christmas morning as presents are being unwrapped and toys are being assembled.  It has multiple sized drill bits so it can be used to open battery compartments, disassemble toy packaging, and to tighten eyeglasses.  The drill bits are stored in the base of the screwdriver.
The magnetic wristband is pretty self-explanatory.  The magnet holds screws or nails to the wristband so they're more easily accessible during a project. It has velcro so it can adjust to any wrist size.
These leather gloves are great for when he is working on a project.  They protect against the cold, splinters, and help prevent callouses.
This screwdriver tool is a little different than pocket screwdriver above.  It's a screwdriver, pen, level, ruler, and has a stylus for a tablet or a phone.
This magnetic pocket level comes with its own little holster and is magnetic on 2 sides.  It's great for all kinds of projects.  The kids also love taking this all over the house to see if everything is level.
This has been on Matt's wishlist for a long time.  He finally bought himself and it isn't just useful, it's helpful.  The headlamp guarantees the light is shining where he is looking.  In our house, this is much easier than having my shaky hand hold a flashlight where I think it should be pointed.  He used it outside the other day while he crawled under our car looking for a nail in one of my tires.
Hand warmers are great to tuck in gloves to keep you a little extra warm.  They come in handy when you have to be outdoors for an extended period of time.  I used to use them when I taught on an outdoor movie set years ago and they quickly became one of my favorite things.  (You can tuck them in your shoes, too!)
Zip ties are a hot commodity here.  We use them for many things, including tying up Christmas lights.  These are great because not only are they rubber and flexible, they're also reusable.
These meat shredding forks are great for pulled pork or chicken for burrito bowls, tacos, and quesadillas.
Add this liquid smoke to your slow cooker and your meat will have an amazing smokey taste.  These bottles are the perfect size for a stocking.
Frank's Red Hot Sauce became popular when people fell in love with Buffalo Chicken Dip.  Now it's used on everything and by everyone.  Even our 9 year old puts it on her beef and chicken.  This small bottle is Cayenne flavored and is just the right size.
Sriracha is all the rage right now.  This new Srircaha Mayo is new and is the perfect addition to a sandwich.
This book is guaranteed to make someone laugh out loud.  I don't find this kind of humor but even I laughed at most of these.
This book is part informational and part funny.  It's the perfect book to put in the bathroom for some reading material.
This book looks hysterical!  It's another great book to put the in your bathroom to help pass the time.
Everyone is getting this from us this year because it's the perfet stocking stuffer and add on to a gift.  Spray it into the toilet because you poop and the bathroom won't smell.  There are multiple scents to choose from.
Which of these is your favorite?  What could I add to this list?
xoxo
–k
Take a look at our kid-approved stocking stuffers
Read about how having kids changed our marriage
Pin this to save it for later!