My friend Amy posted on Facebook the other day that her sweet little boy would only wear socks for mittens. He didn't want to wear real mittens. I had to chuckle when I read it because the girls hated to wear mittens until the beginning of this winter when I made some. Now they wear them all the time – even in the house!
I saw a tutorial on Christine's website From An Igloo for mittens and thought I'd give them a try. Super easy! She even includes a pattern. The hardest part of making these mittens was sewing the elastic on. I had never sewn elastic to something before. It was trickier than I thought. I followed Christine's directions of putting the edge of the elastic under the needle and sew from there, but because you have to stretch the other end of the elastic, the thread wouldn't secure the elastic enough to sew to the other end. It kept pulling off. Pinning didn't work well, either, since the piece of elastic is so small. What I found did work was securing a tight stitch in the middle of the elastic. Then I went towards one end and turned around and went back to the other. Perfection!
The beauty of these mittens is that I made a bunch for the girls. Because they are mittens, they can wear the same size. The bonus is I made them all the same color. We keep them in a canvas box in our mudroom and when they need 1 mitten or a pair, they can grab them and go. You can see a picture of Kate wearing hers here. Sometimes Kate doesn't take them off! Really. She slept in them once.
I also saw on From An Igloo, a tutorial on making fleece hats. I think the boy hat is the most adorable thing ever. However, I don't have any little boys to make it for and my girls don't want it, regardless of what color I make it. The girl one is cute too. Here's Rebecca in hers: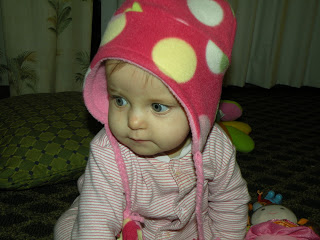 Isn't she so stinkin' adorable? I especially love the little tassels at the end. Rebecca loves to play with them and I am all for something that keeps a baby entertained.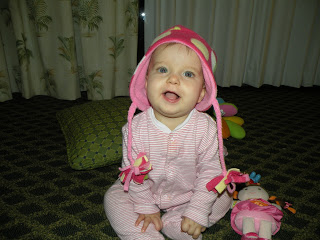 The pattern on Christine's website made a good size for Rebecca, who is 8 months old. It's a bit big so it should fit her next winter, as well. I needed to improvise and make the pattern bigger for the girls. You can also make the flaps over the ears longer and sew some velcro onto it so it has a secure closure. One thing I did was make the braided ties longer so that I can tie them under the girls' chins. I love them because they are warm. The girls love them because they can choose to wear them on either side. Kate prefers the pink side and Caroline prefers the polka dots. Again, they are made out of the same fabric so it doesn't matter which hat each girl grabs.
I'll be making some for my nephews in another week or so. They've decided they want one side blue and the other orange. Matt has been asking for one too, so I'm going to see what I can do to make a pattern big enough for an adult. Stay tuned to see if I am successful. In the meantime, head to the fabric store and buy some fleece!