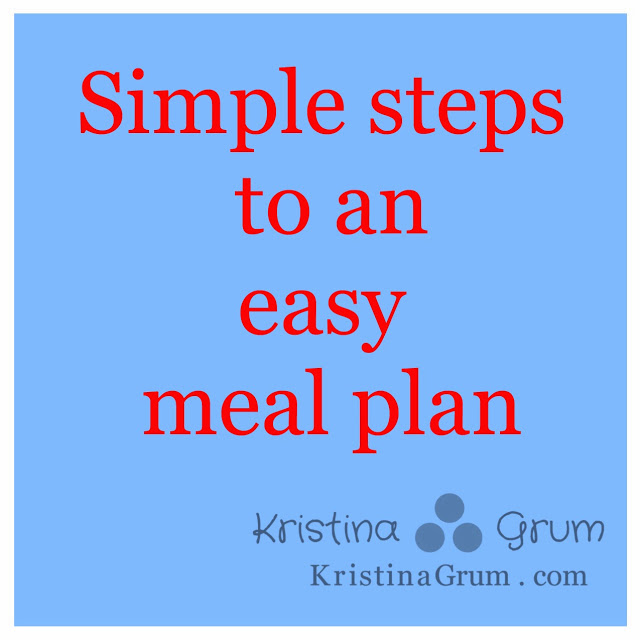 In the first 7 years of our marriage, I don't think I ever once thought ahead to what I was going to make for dinner. We flew by the seat of our pants and made many trips a week to the grocery store. You can do that when you don't have kids. With kids, every grocery store trip is a toss up.
I know meal planning isn't for everyone. I need to plan ahead so I can keep everything running smoothly. I don't always follow the plan, but having it in place saves me lots of time and money.
Here's how I do our meal plan:
1. Make a list of what meals everyone wants to eat
On Sunday morning we sit at the kitchen table for breakfast and everyone talks about what they would like to eat the following week. I take requests for each meal (breakfast, lunch, and dinner) and add in my own. I try to add a new recipe once every week or
two.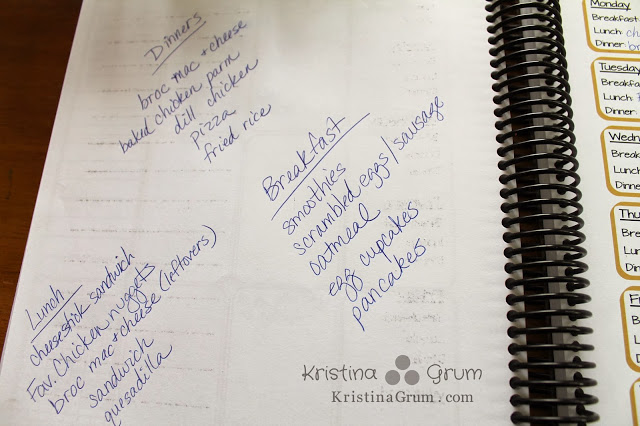 2. Take an inventory of what ingredients you already have
I take a look at the requests and see which ingredients I have on hand. Something is pretty much guaranteed to be on the menu if I have all the ingredients at home. That's because it means I spend less money at the grocery store.
3. Check the weatherI check the weather to see if we're going to have any really cold days so I can make some comfort food or soup on those days. In the summer I check the weather for really warm days to plan the days we specifically grill out. Those weather days are the first days I fill in on my menu sheet.
4. Fill out a meal planning sheet
I try to space out similar foods. For example, we don't have chicken two nights in a row. Usually. We also try not to have eggs for breakfast two days in a row. Instead, we'll have eggs cooked in different ways on Monday, Wednesday, and Friday. I start plugging foods into days depending on if we have any activities or if a specific day will require a crock-pot meal. I also know the girls are wiped out on Fridays after a week at school so I make something that is quick and easy on those days. Then I am able to fill in the last few blanks and make sure the kids each get one request.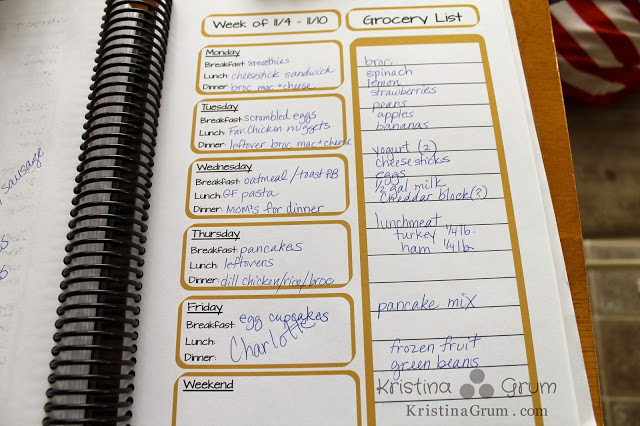 5. Make a grocery list based on the menu
Once I have the menu planned, I make my grocery list. The reason my meal planning sheet has each meal listed is so that I don't forget anything on my list. I also remember to put snacks on my grocery list. The girls are also amazing at remembering to tell me when I need to add something to my grocery list. Often they remember things that I forget!
6. Go grocery shopping
We go to the grocery store on Sunday mornings after church. We go to an early service so the store isn't too crowded by the time we are there. They also have a kids' room, which is great because Matt and I get to grocery shop together without any little people underfoot. Every once in a while we sneak into the cafe for a cup of coffee and a quiet conversation. It's like a mini date! If you have to take your children grocery shopping,
here's a great tip
to make it more successful.
One important thing to note: I am not married to the meal plan. I often change days around or pick something entirely different all together. For this reason, I also don't post the menu anywhere in the kitchen. One day I had planned on making lasagna. Matt spent the day dreaming about eating lasagna. The poor guy walked in the door to favorite chicken and some roasted broccoli. While dinner was still great, it wasn't lasagna and he was disappointed.
The meal plan works for us I think knowing that I have the structure in place helps to keep me organized and reduces the 4:00 panic of "What's for dinner?!" Not only does meal planning keep me organized, it helps me to save money at the grocery store. I spent $125 a week in groceries, including my Target expenses that are not clothes, socks, etc. for the girls. By having a meal plan I don't go
to the grocery store as much. I can usually get by with just that one trip, although every so often I'll change the menu or forget something on our original run.
When I do make multiple trips to the grocery store, however, I always go above my spending limit because I see "just one more thing" that I want.
I understand that not everyone has time to go to the store multiple times (or even just one time) a week so they can't get all the ingredients together in time. If this applies to you then a meal kit like the ones at Sun Basket could be a good option for you. The meal kit gets delivered to your door so you don't have to worry about going to the store. Make sure you read plenty of Sun Basket reviews like the one at My Food Subscriptions before you buy one though as it might not be a viable option for you. I am fortunate enough to have time to fetch all the required ingredients but I know not everyone is that lucky.
I especially love doing our menu this way. The girls feel like they are an important part of the family and feel heard when we include their requests. It really promotes that our family works as a team.
Do you meal plan? What do you find easy or hard about it?
xoxo
–k
UPDATE: A lot of people have asked where I got the meal planning sheet from. I designed it and you can have a PDF of it sent to you.
Get your Weekly Meal Planner Printable