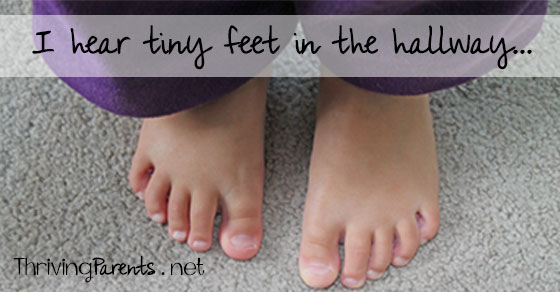 Bedtime came be the most hectic time in any house. You're exhausted. The kids are exhausted. You're thinking about the thousand things you still need to get done before you can end your day.
And then just as you think those sweet kiddos of yours are falling asleep…
They get out of bed.
They ask for a trip to the bathroom, a sip of water, to be rocked, or "just one more story".
I found myself rocking our 3 year old the other night and thinking about how this seems to unfold.
As parents we welcome the night. It means peace and quiet. The darkness covers all of the mistakes and imperfections of the day. When our children repeatedly get out of bed it's not just a sign that we've missed their bedtime window. It's also a reminder to slow down.
To stop and not just look, but to really see them. To feel their little hands in yours and feel just how far their feet reach down your body as you rock them. Weren't they just these tiny little babies that barely fit in our arms? Time is moving fast.
Our children seem to remind me when I need to slow down. On the days I am the busiest, the most rushed, is when they seem to want and need me the most.
Know what? It's really me that needs them. I need that reminder. I need to look around to make a mental imprint of the moment.
I need to take a deep breath and be thankful for the day.
How do your children let you know it's time to slow down?