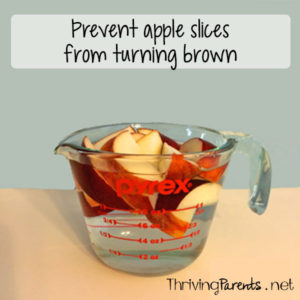 We love apples in our house.  We go through phases where we alternate between wanting to eat whole apples in our hand and wanting to eat apple slices.  Apple slices were harder, though, because they kept turning brown shortly after I cut them.
I kept wondering how I could cut apples that wouldn't turn brown?  I had heard the lemon trick but that made the apples taste like lemon and the kids wouldn't touch them.
This post contains affiliate links.
I'm not sure what the scientific reasoning is behind this but I've finally found a way.
Fill a small bowl or a large measuring cup with water. (The one in the photo is a 2 cup measuring cup*.  It's perfect for an apple.)
Add 2-3 Tablespoons of salt (It doesn't matter if it's table salt or Kosher salt, however, I usually use table salt.)
Give it a quick stir
Add the apples slices
Let it sit for about 3 minutes
Rinse
I store the apples in either a small container with a lid or in a plastic baggie.  They will last at least 3 days.  I often prep a bunch on Monday morning and they last the whole week.Enjoy!
–k
Click to see our comprehensive list of ideas for school lunch
Pin to save this for later!