Easter is almost here and the internet is talking about what to use to fill Easter baskets.  Do you fill Easter baskets with tons of things, a few things, useful things, or fun things?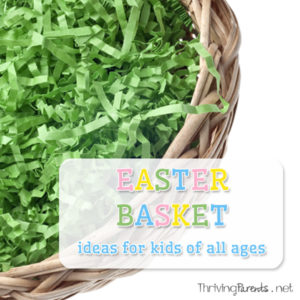 We do a combination of all of those.  Some years the kids get more things than others but I try to keep the items below $10 each.  Some years I go through the Target Dollar Spot and get everything there.  But I know Easter baskets can be tough because most people like to keep them simple.
Whether you go all out or keep your Easter baskets small, here are some of our favorite tried and true Easter basket ideas.  Most of these items can be found at your local dollar store or Target (the dollar spot is a great place to get ideas!).  If you don't have time to get out to the store, you can easily buy them on Amazon through my affiliate links.
Babies
Let's be honest…  There's not a whole lot babies know about Easter.  They won't know if you get them a basket or not.  In fact, you can add extra candy to their basket and eat it all yourself!  Regardless, here are some ideas to give to the smallest people you know.

Baby Einstein Soft Book Toy
Soft books are a staple for babies, especially ones that can tether to the stroller, car seat, or bouncer.

Soft Plush Finger Animal Puppet Set
Finger puppets were always a staple in our diaper bag.  They're small enough for babies to hold and work great at keeping their attention.

Twisty Figure 8 Teether
Babies are constantly teething so a teething toy is the perfect addition to any basket.

Teether and Squeeze Toy
This cute cow is a great way for babies to strengthen their hands and work on their fine and gross motor control.

Broccoli Bites Teether
You may as well get them used to broccoli early on, right?  I mean, they do have this
teether, but I think I'd rather encourage the broccoli.


Developmental Bumpy Ball
These discovery type of toys are great for keeping babies occupied for longer periods of time.

Banana Infant Training Toothbrush
We do a toothbrush in every Easter basket and Christmas stocking.  It's never too early to start brushing or getting kids used to brushing their teeth!


For toddlers
Wind-Up Easter Chick and Bunny
Little wind-up toys are so fun for toddlers.  Wind them up and watch as toddlers chase them around.  They don't go too far so they work great in a high chair, too.

Nesting Easter Eggs
Nesting eggs kept our toddlers busy for a LONG time.  They're really great for preschoolers, too.

Rattle and Roll Car
Push toys are great motivation to get kids crawling, walking, and moving & grooving.  They're also great for pushing back and forth with a parent across the room.  

Jumbo Nuts and Bolts Set with Tote
This toy comes with its own bag and is a great way for toddlers to work on problem-solving skills.  It also works on color matching and fine motor skills.

Wind-Up Swimming Bath Toy
Bath toys can make bath time so much more fun!

That's Not My… books
This entire series of books is a favorite in our house.  I'm pretty sure we have the whole collection.

Dustpan & Brush
Before you dismiss this suggestion, you need to remember that toddlers love to help and clean up.  This trait may or may not continue as they get older so do what you can to encourage it now.  I didn't link a child dustpan and brush because, for some reason, those are either all pink or are twice as much money as regular ones.  

Toddler Toothbrush
Make a toothbrush a staple in your Easter baskets!

Preschoolers
Crayola Color Wonder Mini Coloring Pages
I can't rave enough about Crayola's Color Wonder products.  They're great because they're mess free!  

Sidewalk Chalk Stencil
For kids who love to draw but get frustrated with their lack of ability, stencils are great.  It helps them successfully draw and gives them added fun with chalk.

Toss and Catch Discs
Throwing and catching can be hard for a lot of preschoolers because their hand-eye coordination isn't yet as developed as they'd like it to be.  These toss and catch discs make it easier for kids to practice catching and feel successful.

Sand Bucket Set
This is the perfect time of year to give or receive a sand bucket with toys.  It's perfect for the beach or a sand park.

Tortoise Hatch 'Em Eggs
Your preschooler will love watching this cute turtle hatch from an egg.

Sunflower Mini Grow Pot
This mini flower pot is easy for little fingers to do on their own.  It'll be fun for them to watch it grow.  Let your child use a medicine cup to water it so they don't water it too much.

Sticker Scenes
I love these Sticker Scenes and used to use them in my classroom when I was teaching.  Children stick stickers on the background scenery and then can tell a story of what's going on in the picture. 

Clip On Doodle Pro
These Doodle Pros are fun for kids and easy to take on the go.  They attach to a stroller strap so they don't get dropped.

Animal Figures
These cute animal figures are a great way to learn to about different animals and give kids the opportunity to set up their own imaginative play.  

Pocket Travel Magnetic Fishing Game
This game promotes fine motor skills.  It was always a favorite game in our house.

Crayola Timer Light Toothbrush
Most kids don't brush their teeth long enough.  This toothbrush lights up and lets kids know when they can stop brushing. 

School Aged Kids
Lego Classic Creativity Box
I discovered these new Lego boxes just last week.  Each box is a smaller version of the bigger Lego Creativity boxes.  Each box has a color theme and includes a book with suggestions and ideas for building.   I like these because they're smaller and will easily fit in an Easter basket.

Lego Minifigures
Minifg series are always fun to open.  You never know which minifig you'll get in the bag.  My kids are still hoping to collect them all!

Sleep Mask
We discovered sleep masks a few years ago.  They're fantastic!  The kids can fall asleep when the sun is still out and they also use it in the car on long car rides if they want to take a nap.

Book light
This book light reminds me of Legos. We love book lights so they kids can read in bed without having to have a bright bedroom light on. Some nights when they're done reading, they just turn off their book light, tuck their book under their pillow or on their nightstand, and go right to sleep.

3-Minute Devotions for Boys
3-Minute Devotions for Girls
These 3-minute devotional books are great. Each devotional is based off of a scripture verse and tied into a story or experience that is easily relatable for kids.

IQ Twist
IQ Twist is the kind of game we always keep in the car or in a travel bag.  It's a great game that develops higher-level thinking.  We love Rush Hour too but it's much more expensive for an Easter basket.

Tic Tac Toe
We have a few Tic Tac Toe addicts in our house.  This set comes with it's own little bag so you're sure to have all the pieces in the same place.

Blow Cup and Ball Toy
These add a little fun activity to an Easter basket.  I love that they come in a pack so you can add them to a bunch of different Easter baskets.

30 Animal Novelty Erasers
These erasers are one of my favorite things because they are so cute! When our kids took them to school, a lot of other kids wanted them too. They also have sports erasers.
Traveler's Notebook with Grid Paper
Our kids love notebooks. Grid notebooks are their favorite because they can use them to write, color in Minecraft drawings, or play the dots game.

Jump Rope
School age kids love to jump rope.  It takes a lot of practice so if you have more than one kid, add a jump rope to each basket!

Over the Door Basketball Hoop
These basketball hoops are a fun addition to any room.  You can even put them over a closet door and place the hamper beneath it.  It will make putting dirty clothes in the hamper more fun.

Light Up Timer Toothbrush
Some days kids rush through teeth brushing super quick. This toothbrush lights up and tells kids when they can stop brushing. We started getting great reports from the dentist when we started using them!

Teenagers
Dashboard Mount Magnetic Cell Phone Holder
We tell teenagers not to hold their phones when they drive, but sometimes they still need it for directions or to read text messages, this dash mount cell phone holder is awesome. Our kids remind me to put my phone on it when we get in the car.

Fitbit Alta bands
Most kids have a Fitbit now (or so my first grader tells me!). These bands are great! You can easily change your band to match the color of your outfit or mood. I actually have these and love them.

Colored Lead Mechanical Pencils
Colored lead pencils are so much more fun to use than regular pencils.  They even sell replacement lead in case you run out!

USB Car Charger
This car charger was life changing for me.  It charges my phone in less time than any other charger I've had for my car.  Your teen will appreciate it!

6 foot Lightning to USB Cable
This cable is extra long and is great for charging your phone while you're working or sleeping.  No more straining your neck to see your phone while keeping the phone plugged in!  I even use one in my car now.

Magic 8 Ball
The Magic 8 Ball is a classic gift.  It's always fun to ask it if you'll become a millionaire and see what the answer is.

Clip On Reading Light and Bookmark
This booklight also acts as a bookmark.  It's thin and so convenient to use.  You won't have to look around for your bookmark any more.

Teens Cook: How to Cook What You Want to Eat
This book is a great introduction to getting your kids to cook what they want to eat.  Get them ont rack to being self-sufficient!

Sonic Electric Toothbursh with Auto Timer
Even teenagers can use a reminder that they need to brush their teeth for 2 minutes.  Electric toothbrushes have been said to be better than regular toothbrushes, too.

Adults
Rainbow Kite
Kites always seem so fun.  Truth is, they're hard to get up in the air and hard to keep up.  That's why I have this kite listed as an adult gift and not a child one.  Kids love to see kites in the air so they'll love seeing you use this one.

Carrot Whisk
This is a fun little whisk to use on Easter morning.

Colored Pencil Drawing Set
Colored pencils are even better when they come in a set and a case like this one.  I love that you don't have to deal with a box that will eventually fall apart.

Adult Easter Egg Coloring Book
Adults have found coloring to be calming and therapuetic.  This egg themed coloring book is the perfect addition to any adult Easter basket.

Yankee Candle Happy Easter Candle Tin
I'm not a huge candle fan but looking at this tin makes me feel happy.  I love the bright colors.  They also have a Peeps and jelly bean themed candle tins.

Standard Gifts for (almost) Any Age
Bunny Ears
These are always a cute addition to any Easter basket.  Plus, they make a great prop for photos!

Crayola Chalk
Chalk is a staple in our Easter baskets. Crayola chalk is hands down the best chalk we've ever used.

Bubbles
Bubbles are another standard staple in any Easter basket.

Mad Libs
I remember loving Mad Libs as a kid. The answers can get even funnier as kids get older.

Glitter Easter Tattoos
Temporary tattoos can be for the whole family. The fact that they have glitter makes them extra special!

Inflatable Beach Ball
You can always find a game to play with a beach ball.  We like to mimic the game they play on Friends where you see how long you can throw the ball back and forth before someone drops it.

Water Gun
Water guns can be the source of hours of fun – at least for the person who's not on the receiving end.  Some people have strong feelings about letting their kids play with guns, so this item may not be for your family.

Instant Water Balloons
These water balloons are so much fun!  We used them a lot last summer and I was blown away by how easy they were to fill up.

Uno Emoji Card Game
Our family loves to play Uno. This version is sure to be a hit with the whole family!

Bunny Glasses with Ears
This adds a little bit of humor to any Easter basket.  I think it'd be fun to sit down at the dinner table with it on!

Candy
Don't forget to add candy!
Twizzlers Easter Grass
I've bought this Twizzler Easter Grass the last 2 years and it's been a huge hit.  The kids love to eat it and I love that there's no messy grass all over the floor.  I was having a hard time finding it in stores this year so I just ordered it online instead.

Mini Lindt Chocolate Bunnies
These are always a staple in our Easter baskets.  I love that everyone in our family can get a buny from the pack.

Starburst Jellybeans
Our kids say these are the best jelly beans we've ever had.  Have you ever had them?

Emoji Chocolate Candy
I'm not a huge fan of Palmer chocolate but this emoji chocolates are cute for the kids.  They love seeing which ones I'll give them.

Reese's Peanut Butter Eggs
We love these Reese's Peanut Butter eggs so much that we say our thanks for not being allergic to peanut butter every Easter morning.

Dove Assorted Candy
Dove chocolates are my favorite.  I love putting a bunch in a bowl (even though they quickly disappear!).  I esoecially love the little message inside each wrapper.

Reese's Pieces Easter Carrot
These cute carrots of Reese's Pieces cost more than a plain package but I think they look so cute in their packaging.

What has been successful in your Easter baskets?
xoxo
–k
Have you seen our fun twist on making an egg hunt a collaborative effort (and it's a non-candy alternative!)?
Take a look at our Simple Solution for keeping track of plastic eggs
Click the photo to pin this post and save it for later!