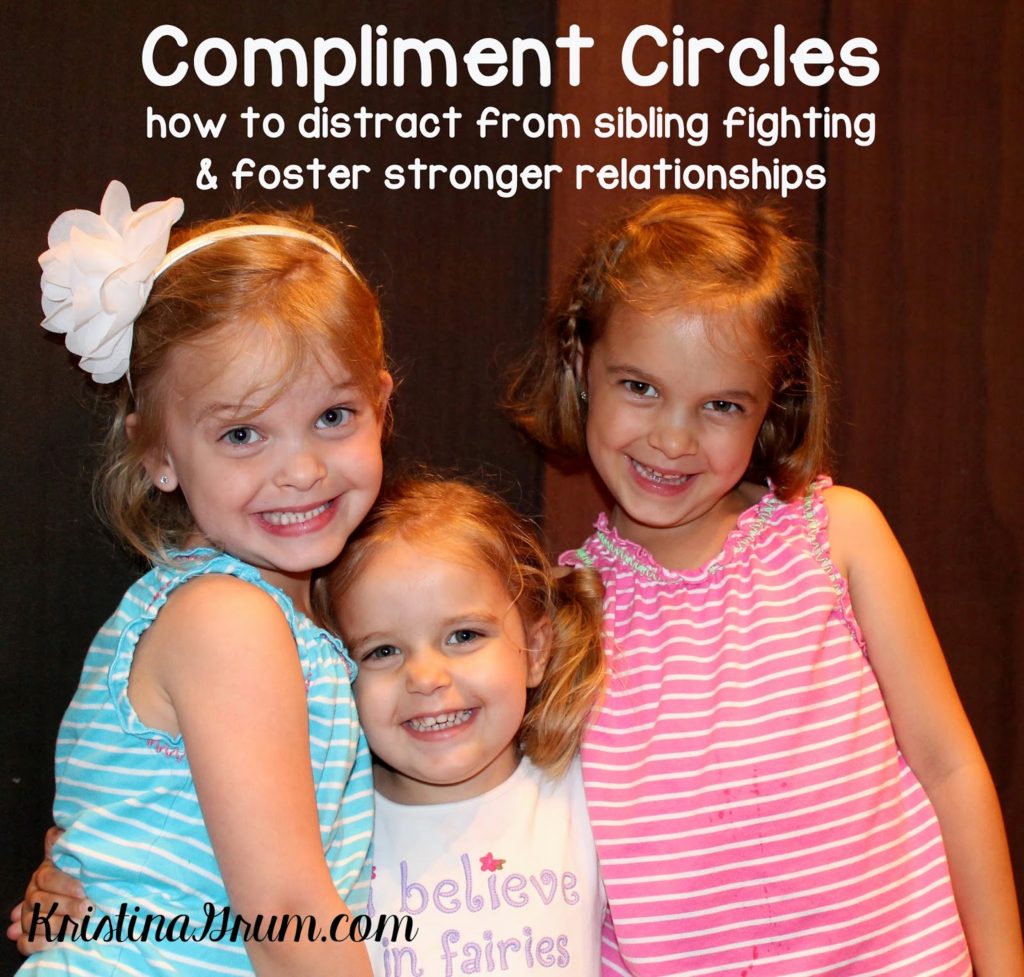 In our house we do compliment circles. They helps us distract from sibling fighting and also help to foster stronger relationships.
Here's what it looks like:
1.  We sit in a circle on the floor.  This allows everyone to be able to make eye contact.  We're working hard with the girls to make eye contact.  It's tough for all of them so we keep on practicing.
2.  Each person has their own moment in the spotlight.  We pick a person to go first and then go around the circle taking turns saying what we think that person does well.  The person in the spotlight also gets to say 1 thing that they do well.
It's so important for children (and adults) to be able to recognize their own strengths and accomplishments.
By starting to identify them at a young age, I'm hoping it will be second nature by the time the girls are teenagers.
I'll be totally honest, I tend to do a compliment circle when I smell disaster coming. You know, what I mean, right?  That moment where your kids are about to explode all over each other and there may be a physical altercation?
Last night I could see that the girls were a little rambunctious. They started fighting the minute we walked in the door from picking up Kate from school.  A compliment circle usually distracts them from the fighting and makes them focus on the good things each of them does.
Here's how our compliment circle went tonight (minus the circle because I was in a hurry to distract them!)
Me: Hey, girls, let's do a compliment circle.  What's one good thing that Rebecca does?
Rebecca:  I bite!
Me: Something good, Rebecca.  Biting is not good.
Rebecca: I'm a good pincher!
Me: Rebecca, pinching isn't good either.  What's something you do that is good?
Caroline: Rebecca's a good reader.  She's very good at reading pictures.
Kate: Rebecca takes good care of her babies.
Rebecca:  I AM a good Mommy to my babies!
(Have I mentioned that Rebecca just turned 3?)
That's not the ideal way it's supposed to go but what is ideal when you have kids anyway?  Thankfully, as we continued, it got turned around in a positive way.  It was enough to distract them from fighting and they actually played nicely afterwards doing one of the things they said another was good at.
I love when I can distract them from sibling fighting – even if it's only temporary.  Not only does this help distract them, though, it helps to build their relationship with each other.  I've learned that it's helping them to see the good in each other first instead of focusing on the bad.  That's a trait I wish a lot of adults had.
xoxo
–k