It's appears I've been neglectful of my sewing over the past 2 weeks. However, that's not the case. Last week we were in Disney World. We had a much needed, wonderful family vacation. That place is magical every single time we go. It doesn't get old – even for Matt and me!
While we were gone, sewing was still on my mind. I took a ton of fabric with me and cut it out at night after the girls had gone to bed. What was I cutting out? Well, I am about to open a store on www.sewcurly.bigcartel.com selling my snack bags and a few other things. In order to be as prepared as possible, I've tried to cut out a lot of my material so I will be ready to sew the bags when orders come in. I also needed to make some sample bags so that I could photograph them. This whole process is a lot more work than I expected, but I am loving every minute of it. It's very fulfilling! I'll be sure to post when the store goes live, which will hopefully be later this week.
Meanwhile, here's a picture of the girls in Minnie Mouse's house. Of course they noticed the sewing machine right away!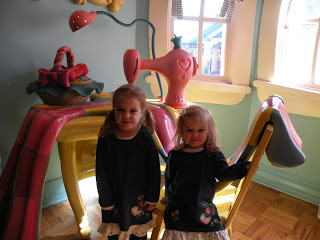 Also, be sure to take a peek at http://www.thetraintocrazy.com/2011/01/m.html Andrea picked me as one of the highlights that week! Very flattering!
Hope you are staying warm wherever you are. We have lots of snow and ice today.
–k