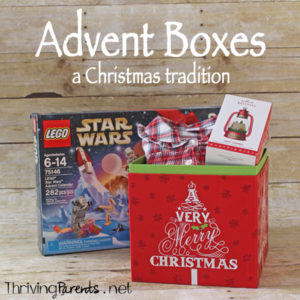 Every year on the day after Thanksgiving and after our turkey hangover, the kids wake up to an Advent box.  We started giving the kids Advent boxes because I wanted a fun way to get the kids excited about the start of the Christmas season.  Of course, you can give your kids their Advent box on the first day of Advent (this year that's November 27th) but that was always harder for us to remember and there were a few years where we completely forgot.  It's just much easier for us to remember to do it on the day after Thanksgiving.
This post contains affiliate links.
After the kids go to bed on Thanksgiving night, we assemble the Advent boxes and place them on the coffee table in the family room.  Each box is mainly the same and contains Christmas jammies, a Hallmark Christmas ornament, and a Lego Advent set.  If I'm ahead of the game, I may toss in a few pieces of Christmas candy.  (I have to remember to put it on my Thanksgiving grocery list so I don't forget!)
Here's what our Christmas tradition entails:
Jammies
I like giving the kids their Christmas pajamas early so they can wear them a bunch of times before Christmas.  I hope the kids never grow out of wearing matching or coordinating jammies.
Ornament
The Christmas ornament we buy is always a Hallmark Keepsake ornament.  I pick one that corresponds to something they did this calendar year and I love them because they always have the year on the bottom of the ornament and on the box.  Last year I got Rebecca the "On the Night You Were Born" one because she loves this book and because this is the year she learned to read.  I love that it has a book as part of the ornament.
Advent Calendar
The Lego Advent set has been a tradition for years.  Lego makes a Star Wars set, a City set, and a Friends set.  The girls like putting together a small set of Legos every day as we count down the days to Christmas day.  These sets can be hard to get and if you are thinking about buying one, I suggest ordering one right away.  I've noticed that shipments keep replenishing but they do run out quickly!
Boxes
I bought super cute boxes a few years ago at a craft store and we store them in the basement with our Christmas decorations.  They come out of storage for this one day but I can also use them to decorate around the house.  If you don't want to buy a reusable box you can use anything you have at home: a gift bag, a basket, a bowl from your kitchen, or even just stack the items on top of each other in a pile.  These inexpensive boxes are cute too and come in a larger pack so you can use some for family gifts. Somehow I don't think kids mind how their presents are packaged.
Do you do any special activities to count down Advent?  If so, I'd love to hear about them!
xoxo
–k
Learn how to help your child with gift giving disappointment
Pin this to save it for later!