We started #ProjectJoy and spreading Random Acts of Kindness over a year ago. At least once a month we do a Random Act of Kindness for someone we know or a stranger. It is amazing at what a difference it has made in our kids. It has made them more appreciative and more grateful and has given them a reason to think of others first. And they think it's the most fun thing!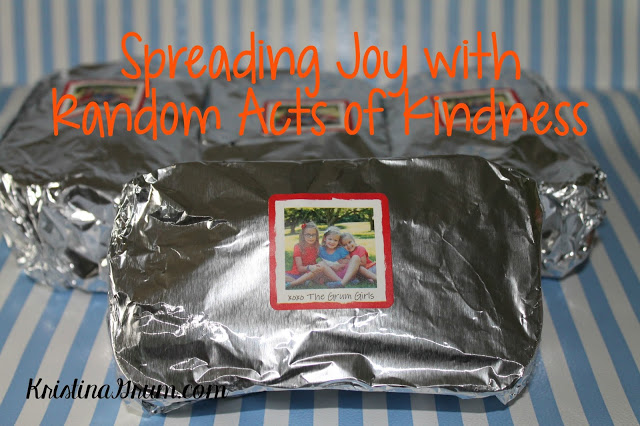 This fall we took our Pumpkin Bread recipe and made 11 loaves of pumpkin bread. We delivered them to friends and family – putting most of them in mailboxes so they'd be a fun surprise to receive. The girls loved wrapping them up with aluminum foil and sticking these adorable Shutterfly stickers on the package.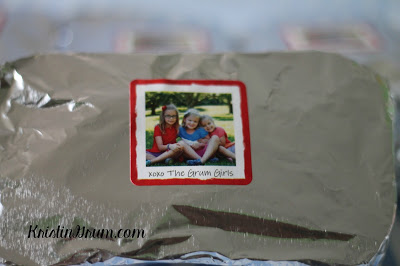 I am a huge fan of stickers for tags because they're easy. They don't require writing anything and I can also include a photo of our kids on them. Who doesn't love a sticker with cute kids on it?
Shutterfly is partnering with Stonyfield to give their customers $20 off an order. This is a great deal to buy these sticker labels (think holiday gifts!) or to buy some holiday cards. The quality is amazing. Here are the details of the offer:
Purchase any Stonyfield YoBaby or YoTot yogurt 6-pack and enjoy $20 off your order at Shutterfly.com.
Direct your readers to shutterfly.com/stonyfield to learn more and redeem
Offer ends February 29, 2016
The offer is only good for 1 per household
If you are looking for Random Acts of Kindness that kids can do, head HERE for a complete list that includes a printable.
* Disclaimer: I work in partnership with Stonyfield as a YoGetter and I am compensated for my work. I did receive a sample for this post from Shutterfly. The opinions and thoughts contained in this post are 100% mine.
Kristina Grum is a Certified Parent Educator who has over a decade of experience working with children, including being a classroom teacher. She currently teaches parenting classes in her local area and writes about shifting parenthood from barely surviving to thriving.