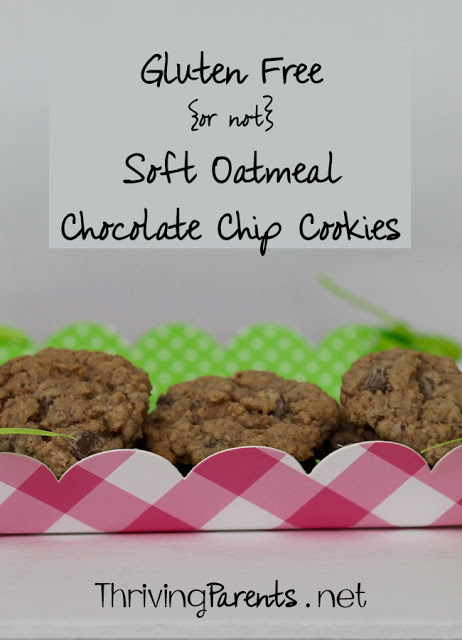 As much as I love chocolate chip cookies, I have always had a weakness for soft oatmeal chocolate chip cookies too. The only problem is that a good oatmeal cookie recipe is hard to find.
I finally found one that we love so much, I am required to hide them from the rest of the family. They are thieves when I make them! I'm not sure where I got the recipe so I can't credit any one but here it is:
This post contains affiliate links.
SOFT OATMEAL COOKIES
Ingredients:
1 c white sugar
1 c brown sugar (packed)
1 c butter, softened
2 eggs
1 tsp vanilla extract
2 c flour (I use Better Batter* to make it gluten free)
1 tsp salt
1 tsp baking soda
1 1/2 tsp cinnamon
2 cups chocolate chips
3 cups of gluten free quick cooking oats*
Directions:
1. Using a mixer, cream together sugars and butter. Add eggs in one at a time followed by the vanilla extract.
2. Mix salt, baking soda, cinnamon, and flour in a small bowl and add to the mixer bowl. **
3. Add the oats slowly, about a cup at a time.
4. I scoop the dough onto parchment covered cookie sheets with a small pampered chef scooper. They are about a tablespoon's worth of dough, maybe a little less.
5. Place in an oven preheated to 375* and bake for 9 minutes. If you make your cookies a little bigger they will take a little longer. The cookies will look like they aren't quite done yet, but they will continue to cook as they cool on the cookie sheet. Let them cool for about 5 minutes before removing them.
I don't know how many cookies it makes because my family eats them as I pull them out. I would say it's over 2 dozen, though.
** When I originally copied this recipe down, I had written that the powders (flour, baking soda, salt, and cinnamon) needed to be mixed before adding them. Honestly, I don't do that. I don't want one more single bowl dirtied while I am baking. So when I add them to the bowl, I just spread each of them out all over the dough so each ingredient isn't clumped in one area.
Enjoy!
–k
Always have cookie dough on hand for unexpected guests or unplanned celebrations.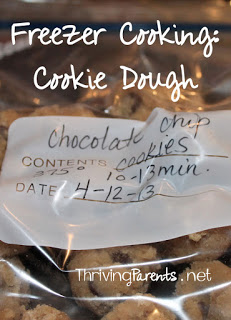 Kristina Grum is a Certified Parent Educator who has over a decade of experience working with children, including being a classroom teacher. She currently teaches parenting classes in her local area and writes about shifting parenthood from barely surviving to thriving.
var _gaq = _gaq || []; _gaq.push(['_setAccount', 'UA-22690871-2']); _gaq.push(['_trackPageview']); (function() { var ga = document.createElement('script'); ga.type = 'text/javascript'; ga.async = true; ga.src = ('https:' == document.location.protocol ? 'https://ssl' : 'http://www') + '.google-analytics.com/ga.js'; var s = document.getElementsByTagName('script')[0]; s.parentNode.insertBefore(ga, s); })();