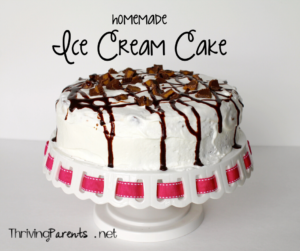 This is by far the most popular recipe in our family.  This recipe is special.  And by special, I mean it's so yummy that we make it for almost all celebrations.
Depending on where you live, you might be familiar with Carvel and their ice cream cakes.  They have a cookie crust and a cookie middle layer.  The Carvel stores closed in our area and we were devastated.  We loved their cakes.  This is our DIY version that incorporates our favorite candy – Reese's Peanut Butter Cups.  It's especially perfect now that we're gluten free – we just use gluten free sandwich cookies, instead of Oreos, for the crust.  It's completely gluten free that way!
1 gallon of vanilla ice cream (or a flavor of your choice)
2 small containers of whipped topping or 1 large container
1 large bag of Reese's mini peanut butter cups
I should preface this by saying that you can use any kind of candy.  So if there is a peanut allergy and you can't do Reese's peanut butter cups you can use anything else.  The only candy I've tried and didn't like was m&m's.  They get too hard in the ice cream and then are hard to bite.  While we are at it, you can use any flavor of ice cream and any kind of sandwich cookie.  The possibilities are endless!
The first thing you need to do is unwrap the Reese's peanut butter cups.  I usually unwrap about 40 and start from there.  And it's totally appropriate to accept the help of little people (a.k.a. your children) to do this.  Just be careful – they tend to be taste testers as well as helpers!
Take a sharp knife (a serrated knife works best) and cut them in fourths.  If you buy the bigger Reese's peanut butter cups, you'll just have to cut them into more pieces.
Add this chocolatey goodness to a small bowl with some whipped topping.  Normally I buy two of the smaller containers but this time I just bought one large one.  If you use the smaller containers, add half of 1 of the containers to the bowl.  If you use the larger container of whipped topping, add 1/4 of the container to the bowl.
Use a large spoon to mix the whipped topping and the chocolate sandwich cookies until they are combined well.
If you think it has too much cookie, just add some more whipped topping.  If you think it has too much whipped topping, just add some more cookie.  You really can't mess this up because there's no science behind it.
Can you tell my helpers have been helping themselves to candy and cookies?
Now the rest of the recipe is easy because all you are going to do is repeat the last two layers.  Make another batch of the cookie crust for the middle layer and another layer of the ice cream/ candy mixture.  Most important thing to remember is to put the springorm pan back in the freezer between every step.  If not, the cake will be too soft to hold another layer on top of it.
This is what it looks like when the cake is all done:
Delicious?  Absolutely!  But we're not done yet.  Keep your springform pan in the freezer for a few hours until it's hardened all the way through.  I usually make it the day before I need it and take it out a few hours ahead of time.  Set the pan on a flat surface and take a knife (butter knife works fine) and run it between the inside of the pan and the cake.  Do this twice to be sure you've separated the cake from the pan.  Slowly open the "buckle" on the pan and remove the side walls.
Now, for the last step…  Cover the entire cake with whipped topping.  You can be generous or just barely cover it.  Whatever your preference.  I like to be generous.  I mean, who doesn't love whipped topping?  Take a few Reese's pieces and decorate the top of the cake with them.  Slightly push them into the whipped topping so they will set in.  Make room in your freezer for the cake.  You'll need more room than you did before because you don't have the sides of the springform pan to protect it.  There have been many times that the sides of my cake have gotten all over a bag of green beans.
My biggest recommendation is to take the cake out of the freezer about 15 minutes before you want to serve it.  This way it won't be quite so "hard" when it's time to cut it.  Also, use a serrated knife to cut it.  It'll work so much easier.
Please try this recipe and let me know how it turns out!  And if you have any questions, please feel free to ask me.
Pin this to save it for later!
*These links are affiliate links.  What does that mean?  It means if you click on the links to purchase these products I get a few pennies for every dollar.  Basically, in a year I'll be able to take the girls out to ice cream.  😉