One of the girls' classes this year decided to make their valentines snack and candy free so we came up with this cute idea for a valentine.
We went to a birthday party and received these Krazy heart straws as part of our goody bag.  I headed to the Dollar Tree and picked up a few packs (6 came in a pack).  I loved Krazy straws as a kid!
All you have to do is download and print out the messages on cardstock paper (we use cardstock paper so the straw doesn't rip the paper) and have your child cut them out.
As you can see, the cuts don't have to be straight.  I think the most important thing is letting your child do it themselves, regardless of how it looks.
Then they have to punch 2 holes with the paper puncher in the margin of the message.  We love using this heart shaped paper puncher because it's perfect for Valentine's Day!  Then feed the straw slowly through the holes.  I was worried that since the holes were small that Rebecca wouldn't be able to do this.  She is 5 and is not always careful.  She rose to the occasion and was really careful and not one heart hole was broken.
I have to say these were one of the easiest valentines we've ever made. Grab a copy of the printable here!
Get your Valentine Printable for Krazy Straws
What kind of valentines is your child giving out this year?
xoxo
–k
Here are our printable fish valentines.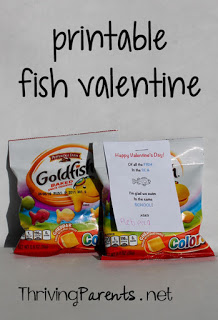 Here are our perler bead valentines.