A lot of people have asked me how I got into sewing. A lot more have asked how I have graduated to such big projects so soon. The short answer is, I started small and kept on going. And I couldn't have done it without Andrea.
My mother-in-law recently reminded me that when we moved into our house 5 years ago, I couldn't sew. Well, not that I couldn't sew-sew, but I didn't sew. I remember finding curtains that I was in love with for my sliding glass door in the kitchen. They were mostly white and had a yellow and green border on the bottom. Because they'd be behind the kitchen table, I wanted the yellow and green border to be at the top. I asked my mom to add a stitch to the bottom of the curtains so that they'd hold a curtain rod when I flipped them upside down. It's so funny to think I didn't have the confidence to do that.
Within the next year I got a sewing machine for my birthday. It was a Kenmore and pretty simple. It was all I needed. I used to primarily to make burp cloths for people as baby gifts. I might have hemmed a pair of pants. I still hadn't found any real projects that I thought I could do.
After I had Caroline in 2008, I attempted to make a few dresses for the girls. My first was horrendous. I tried to use a pattern and it was a huge failure. Patterns were not easy! So I made my own pattern out of a dress Kate already owned. That dress came out a tiny bit better but not much. I don't know if she wore it more than once.
This is where Andrea comes in. Sometimes this past summer I discovered a new website. The Train to Crazy. It is amazing! It was full of great ideas and links to other great ideas. It was also full of tutorials. I LOVE tutorials! I think one of the first tutorials of Andrea's that I wanted to make was the Go To Dress. Isn't it so cute? But as I read the directions, I realized I might be better off making the Simple Skirt. So that's where I began.
Here was my first attempt:
Cute, right? I mean the skirt, but of course, the girls are cute too! Then I decided to get a bit crazy and embellish my 2nd attempt with a white ribbon across the bottom.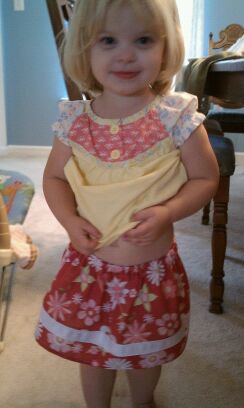 The quality of that picture isn't so great and please disregard the non-matching shirt. Caroline tried it on for me as soon as it came off the sewing machine. These skirts were sooo easy to whip up that I whipped up a few more.
Andrea's website is the perfect place to go to if you are new to sewing or wondering if you could sew. And the
Simple Skirt
is the perfect place to start. I am actually planning on making one for myself when I have some time.
So head on over to The Train to Crazy today!
–k