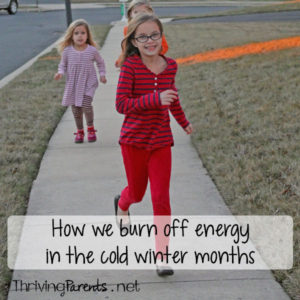 The cold weather has finally arrived in Pennsylvania.  We had a ridiculously mild fall and had temps in the 60s and 70s near Christmas.  We were spoiled.  Our kids had more time than ever before to play outside.  They love to ride bikes & scooters, write with chalk on the driveway, create obstacle courses, and play on the swing set.
Now that the weather is getting colder it's not easy for them to play outdoors for long.  We've had temps in the teens and being outside for too long is not enjoyable or safe.  I started to notice some undesirable behavior from them.  (Doesn't that sound so much better than "they were misbehaving and acting crazy"?)  It took me a while to realize that they were going a little stir crazy from so much time inside.
Lately we've been doing this one thing after school each day which helps them get their energy out.
After I pick them up from school and we are driving home, I let them out of the car about a quarter of a mile from home.  They hop out of the car and run the rest of the way home.  Yes, they RUN.  It's not something I make them do but they have the choice.  Every day I ask them if they want to get out early to run home.  It helps them to stretch their muscles and move their bodies.  By the time they get home they've gotten their blood pumping faster through their veins and they have a big smile on their faces.  Sometimes they decide to stay outside for a few minutes longer and sometimes they come inside immediately.  Regardless, this little burst of energy that they burn off seems to help them refocus – especially our ADHD child.
What kind of things do you have your kids do to burn their energy off in the winter?
xoxo
–k
Pin this to save for later!