Isn't this Santa sack sew cute?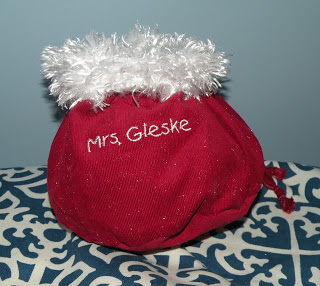 Can you believe I decided to make it on a whim?  Crazy, I am!  Here's the story:
I went to the Moravian Bookstore to buy a Christmas ornament for my daughters' preschool teachers.  I knew I wanted to get them a gift certificate to Barnes & Noble too, so I just wanted a nice (and not super expensive) ornament for them.  This store is known for selling Moravian star ornaments and they are not cheap.  I didn't want one of those.  I just wanted something small to add to our gift.
Anyway, I chose an adorable snowflake ornament (should have bought one for myself!).  At the register I asked the clerk for boxes.  He said they only give boxes out for items that cost more than $10.  Since each ornament fell short of that, I could purchase boxes.  No thanks!  I had some small felt mittens that I had bought last year that I thought I could use to tuck the ornament and gift card into.  When I got home and tried, the ornament didn't fit.
Now this was on a Sunday and I was hoping to deliver the gifts on Monday instead of Wednesday.  I planned on going out to get 4 gift bags at the store but I remembered some red corduroy fabric that was leftover from a skirt I made for Kate.  (I'll post the skirt another time.)  Then, my creative genius kicked in.
I grabbed my sewing notebook and drew what looked like a Santa sack.  Drawing it was easy.  Getting it right, was not.  In my dining room sewing room, I worked for about an hour until I got it.  Once the girls went to bed, I ran out to Joann's to look for some white fuzzy fabric.
Once back home, I got to work.  I decided to embroider each teacher's name on their bag with my new Christmas present, an embroidery sewing machine (thanks honey!).  After a few mistakes (bunched up fabric, incorrect type style, thread breakage), I finally got it.  But here came the fun part – the white fuzzy material.  This stuff was crazy.  Literally little white pieces were all over everything.  And I am not exaggerating!  The floor, the dining room table sewing table, the kitchen, my clothes, the couch…  That stuff travels!  M has made me promise to not use it any more but I told him I'd at least wait until next year.  You can actually see some of it in the picture.  We had to use a lint brush to get it all off.  Thankfully when it's sewn on it doesn't fray.
Here's how the basic construction worked:
I used a small paper plate to trace a circle for the bottom.  Then I needed to calculate how tall I wanted the side wall to be.  It needed to be deep enough to hold the ornament I bought.  This piece of material was a long rectangle.  I folded the top of the fabric over about an inch.  Where the material overlap ends, I sewed a stitch across the fabric.  Then I sewed a line close to the top of the piece – near the crease where I just folded.  This created a little casing for the drawstring.  I sewed the rectangle closed on the shorter lengths, right sides of the fabric together.  Then I pinned the bottom edge of the rectangle to the circle, right sides together.  Once I sewed around the circle to attach the side to the bottom, I was ready to work with the white fuzziness.  I cut a 3 inch wide strip that was the same length as the side wall of the bag.  I don't remember what that was now.  I put the edge of the fuzz against the edge of the corduroy (right sides together) and sewed using about a 3/8 seam allowance.  Once it was sewn, I opened the seam to fold the fuzz to the inside of the bag.  I sewed the other edge to the inside.  I had to be careful to not sew that in the middle of the casing.  I had taken a strip of fabric (longer length than the side walls) about 1.5 inches wide.  I folded it down in thirds and sewed a seam on both of the long ends.  Then I attached it to a safety pin & fished it through the casing.  When I had it through I tied a small knot on both ends to secure it.  Voila!  I was finished!
I hope that was easy to follow.  I should have taken pictures of the process and done a tutorial about it.  Next time.
Anyway, I didn't deliver my gifts until Wednesday morning.  They seemed to be a big hit.  My only regret?  I didn't make myself one!  I ran out of fabric with the 2 mistakes that I made.  And to think, all this because I was too cheap to buy boxes!
–k