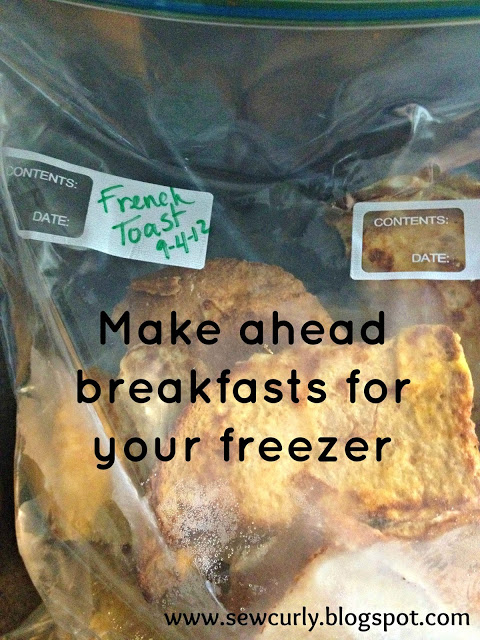 So our morning went something like this:
Matt was out of the door at 3:30 am. (Yes, I know that is ridiculously early! He had an early appointment in Baltimore.)
I woke up to Rebecca calling me from her crib at 7:45am. I brought her to our bed to lay down with me until her sisters would wake up.
Then I looked at my phone.
It was 7:50!
We usually leave for school by 8:10 and the girls are ALWAYS up by 6:30, 7:45 at the very latest. But because we spent the long weekend visiting my best friend in Charlotte, I didn't find this to be unusual behavior. I think the trip wore them out!
Enter speed mode!
I quickly woke Kate and Caroline (I think they both could have kept sleeping) and asked them to do their morning chores. Their morning chores consist of getting dressed, making their beds, and brushing their teeth upstairs and then getting shoes, jackets, and lunch box downstairs.
I got Rebecca and myself dressed. Then Rebecca asked for pigtails. Then she needed help getting toothpaste on her toothbrush.
By the time we were all ready and downstairs it was 8:15 and we hadn't eaten breakfast yet. In our house, that's not a problem.
A huge way that I am able to juggle raising 3 children who are close in age, keep our household functioning (I use that word loosely this week), and running the Sew Curly business is by doing a lot of freezer cooking. Freezer cooking is when you cook a meal or a big batch of something and put it in the freezer for another time.
Luckily, I have a huge selection of breakfast foods made ahead and in the freezer. All I have to do is defrost them.
I originally learned about freezer cooking from two moms I know who got together and cooked/ prepped a month's worth of meals at a time. I asked them about it and found out that they were using Once a Month Cooking.
Once a Month Cooking gives you many recipes in a "plan." It provides a list of complete recipes, a grocery list, a detailed list of what to prepare the first day, and another detailed list of the order you should assemble the meals the second day. I ended up getting the Family Favorites recipe book and found a plan I thought we'd like and made the meals. I loved the ease of having to defrost dinner the night before and not having to do more than put dinner in the oven or the crockpot. However, the one problem I was having was that we didn't love all the recipes in the plan.
Since I don't so much love the making ahead all at once, I tend to do it in shifts. It's the most efficient way in my opinion. So what does cooking ahead in shifts look like?
When I make something, I make double the batch and freeze it. Sometimes triple. Just last week I bought 2 loaves of bread to make french toast. I was able to freeze all of it and that's what we ate this morning in the car. I tossed 2 pieces into a sandwich bag and the girls were able to take their time eating it in the car as opposed to being rushed at the kitchen table.
I'm a big stickler for serving the girls a hot breakfast. Here's a quick list of all the things I like to rotate in our breakfast rotation. I put an asterisk next to the items that I make ahead and freeze. I freeze everything in a gallon size freezer bag so it doesn't take up too much room in our side by side freezer.
pancakes * – Layer them between small pieces of wax paper and stack them in a Ziploc bag before placing them in the freezer.
pancake bites * – Put pancake mix into mini muffin tins and bake in the oven at 350* for 10 minutes. Toss them into a Ziploc bag and place in the freezer. They work so much better than muffins because they don't crumble when the kids bite into them. That said, I don't do muffins any more. They are too messy!
waffles * – We make at least a batch of waffles all the time and layer them between small pieces of wax paper and stack them in a Ziploc bag and place them in the freezer.
French toast * – Make the French Toast. You can either flash freeze them (put them spread out on a cookie sheet and pop them in the freezer until they begin to harden – 10 minutes) or just toss them in the Ziploc bag. The difference is that they may stick together a bit if they aren't flash frozen. For the record, I don't flash freeze. It's just another step that I can skip to make it quicker.
scrambled eggs with turkey sausage
over easy eggs with toast
oatmeal
I hope this list helps you! Is there anything you make that I could add to it?
xoxo
–k
Day 11