Every month we do a Random Act of Kindness for someone else.  Our family calls it Project Joy.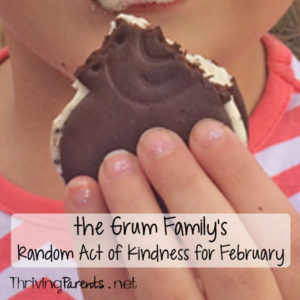 February was a cold month for us.  The kids had a few days off from school due to snow and ice.  It's no coincidence that February's Random Act of Kindness was related to the cold.
National Random Act of Kindness Day was on Wednesday, February 17th.  We happened to go to Sonic after school for some mini blasts.  On our way there I mentioned it was National Random Act of Kindness Day.  While we were in line at the drive thru, the girls asked if we could pay for the car behind us.  Every year at Christmas we drive through an area of town that has an entire light display set up.  They charge a fee to go through it and we always pay for the car behind us when we go.  Matt and I have had this tradition since before the girls were born.  This act has always stuck in their mind and they still mention it often, and not just at the holidays.
I was so impressed they thought of this Random Act of Kindness on their own.  Usually every month I provide suggestions for us and we pull out the printable list of things we can do to be reminded of suggestions.  This was their own idea!  I feel like it's getting easier for them to see the value of Random Acts of Kindness, which makes my heart super happy.
We paid for the car behind us.  I think the employee at the window was confused when I said we wanted to pay for the car behind us.  I'm guessing it's not done often enough at this particular Sonic or on his shift.  Hopefully in the future this will change.
During the last week of February, we took a last minute trip to Disney World.  We left before we had done our official Random Act of Kindness for February.  While we were there I suggested a few acts that we could do but the girls were distracted by the wonder of Disney World.  They were exploring rides they hadn't previously been tall enough to ride and the warm sunshine that wasn't in Pennsylvania in February.
One day toward the end of our trip we decided to buy a family behind us ice cream.  Mickey ice cream pops and Mickey ice cream sandwiches are the girls' favorites and the one treat they could eat every day while we're in Disney World.  While 2 of the girls were on Big Thunder Mountain Railroad with Matt, one of the girls and I bought ice cream for a family of 4, that had 2 little boys.  The family tried to pay me but I explained how we do 1 Random Act of Kindness a month as a family and they said they would pay it forward.
I love how monthly Random Acts of Kindness have become a part of who our family is and what we stand for.  I hope it inspires others to pay it forward, as well!
What Random Act of Kindness can you do for someone this month?
Click to see a list of Random Acts of Kindness your child can easily do
Read how we started spreading joy with Random Acts of Kindness
Pin to save this for later!