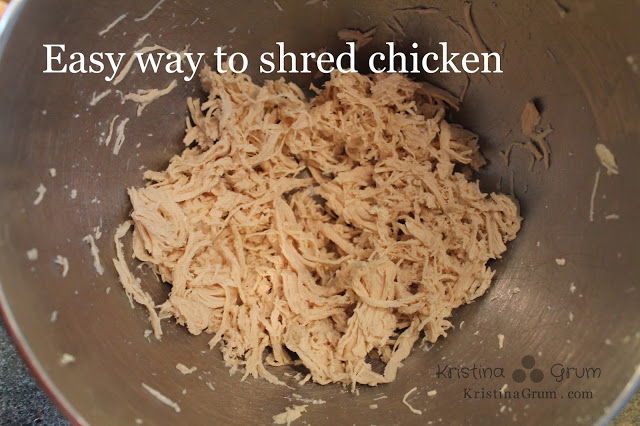 If you own a Kitchen Aid stand mixer you can easily shred chicken in less than a minute.
Yes, you read that right.  For years I did the two-fork method of pulling apart chicken. It was time consuming and I often got chicken juice on me.  I hated it.  Time consuming does not work when you have 3 small children.
We shred chicken often.  We use it in burrito bowls, tacos, quesadillas, or for chicken salad.  Sometimes if I have chicken that will be going bad soon, I'll shred it and freeze it for a later date.  It freezes well.  Freeze it in small bags so that you don't have to defrost it all to use a little.
Here's how it's done:
This post contains affiliate links.
1.    Put whole chicken breasts in a pot of water.  I usually boil 4 breasts at a time and just make sure there is a sufficient amount of water in the pot.
2.   Boil the chicken breasts for about 15-20 minutes or until done.  I often take a fork and knife and cut into the chicken to check to see if it's done.
3.   Put 2 breasts at a time in your Kitchen Aid mixer.  Attach the white beater paddle, and turn to speed 2 for a minute or less.  Keep an eye on the chicken because if you
over-mix it, the chicken will be minced and not shredded.
It's seriously that easy.  If you are really serious, you can use the water your chicken boiled in for chicken stock.  Pour it through a strainer and freeze it in ice cube trays.  Once it's frozen, pop out the cubes and put them in a large Ziploc bag for storage.  It's not as good as chicken stock that is made from chicken on the bone, but it still works.
What other easy kitchen tips do you have that save you time in the kitchen?
xoxo
–k