Are you happier as a person before or after you had kids?  I always thought I was a pretty happy person but it wasn't until our 3rd child was born that I realized I am finally a truly happy person.  As cute as Rebecca is, I know she's not the reason I am happy.  It's because I regularly do these 12 things that make my whole life happier as a parent.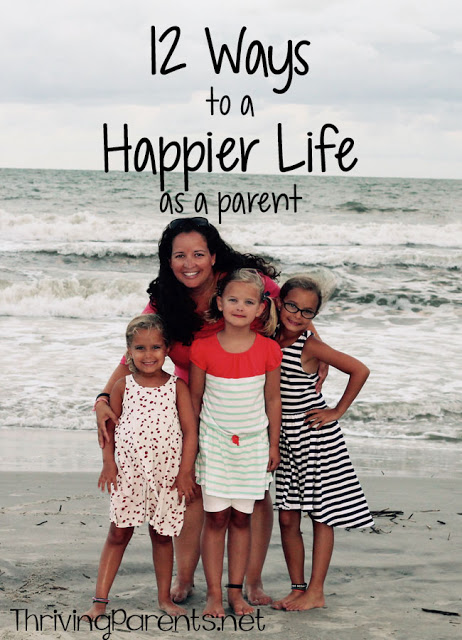 1. Surround yourself with positive people.
Being around negative people can have a big impact on your life and not in a good way.  Instead, surround yourself with positive people who enjoy being parents, give you constructive feedback when you ask for it, and build you up & leave you feeling good about yourself.  In turn, build others up and be a positive light in someone else's day.  You never know how far a smile or a kind word can travel.
2.  Document only the most important things.
You can drive yourself crazy trying to fill out every inch of your child's baby book.  Your children will not need to know that they lost their 7th tooth on July 17th.  Record the most important things if you can.  Your kids won't gauge your love for them by the amount of things written down and documented.
3.  Say yes to the things you love.
Don't volunteer to be on the monthly newsletter committee at school if you don't LOVE writing.  As a matter of fact, don't volunteer to be on any committee or help with anything if you really don't want to do.  The time commitment involved is always more than you anticipate and it'll show if you genuinely aren't interested.  There are a lot of ways to volunteer and you can find one that matches what you love to do.
4. Practice self care.
The most important job you have as a parent is to take care of yourself.  You are much better equipped to take care of others when you are practicing self care.  Self care can mean you get to drink your coffee in quiet every day, or it may mean you get to close the bathroom door when you go to the bathroom.  Sometimes self care is a baby step but please make sure to take all the baby steps you can get.
5.  Date your partner.
I've written before about how our marriage has changed since we had kids.  Parenting comes so much easier to me than marriage and partnership do.  I have to work really hard to be intentional with my actions when it comes to marriage or else our marriage really suffers.  Making time for a date allows you to put your partner first – even if it's only a date at home.  Don't underestimate the need for connection with your partner.
6.  Date your kids
It's so important for kids to feel important.  While there are many ways to make kids feel important, the best way to connect with them is to "date" them.  What does it mean to date your kids?  Essentially it is taking them out of the house (and away from every day distractions) and giving them a significant amount of one on one time.  Significant time can be 15 minutes or it can be a few hours.  As long as it's uninterrupted time that is focused on them, it's a win-win for everyone.  Again, don't underestimate the need for connection.
7.  Don't be afraid of shortcuts.
Shortcuts are an important part of survival when you are a parent.  Don't be afraid to take them and don't hesitate to look for them.  Buy pre-made cookie dough instead of making it homemade, order dinner to be delivered, or skip a bath at night.  Believe me, you will not be the first person who wiped their kid down with baby wipes instead of giving them a bath before bed and you won't be the last.
8.  Teach the kids responsibility by giving them chores. 
It's easy for kids to learn responsibility and they are more than capable of doing chores in the house.  If you start having the kids helping when they are young (even as young as 1), it'll always be a part of their life.  Small children can put their own clothes in the hamper and can help to set the table.
9.  Let go of the guilt.
There is no such thing as a perfect parent.  No one can do everything.  Make sure you do what you can do and don't feel guilty about what you didn't do.  Even if you did do it all, there would still be something else that is lining up next to be done.
10.  Find some great friends.  
I'm not a believer that you need a whole tribe of people.  I think you need a lot of different friends for a lot of different seasons in your life.  One who has the same beliefs in parenting.  One who has the same beliefs in marriage.  One who has the same beliefs about money, etc, etc.  If you can find one friend who has all those beliefs – keep them!  Bake them some chocolate chip cookies and take them a bottle of wine.  They're a keeper!
11.  Have fun first. 
Whatever you are doing with your kids, make it fun.  They're more apt to want to be involved and enjoy what you are doing if it is fun. You're going to want them to look back on their childhood and remember the fun and not the yelling.
12.  Ask what went right instead of focusing on what went wrong.
Parenting is such a tough job.  It's easy to second guess every move you make and it's inevitable that you will do many things wrong.  That's okay.  How you react to it will teach your children volumes about failure and success.  Place the focus on what went right and you'll be on the road to future success.
Is there anything you would add to this list?  Let me know in the comments.
xoxo
–k